Weapons expert takes aim at history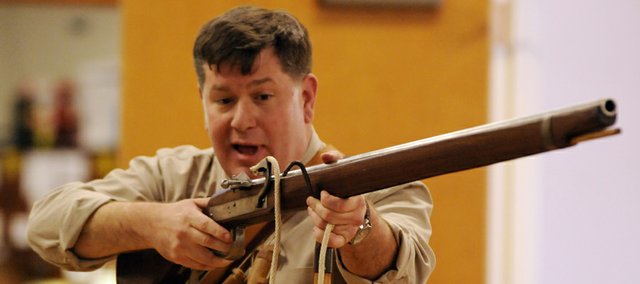 When Gen. George Custer and his men were wiped out in the 1876 Battle of Little Big Horn, they were more than just outnumbered by the American Indians they faced.
Many of the Indians had obtained Henry repeating rifles, which had a faster firing rate than the single shot Springfield rifles used by Custer's 7th Cavalry.
That was just one of many historical weapon tidbits offered by Fort Leavenworth military history professor Shawn Faulkner during a presentation Thursday at Kansas University.
"What I invent today may be obsolete by tomorrow," Faulkner said, as he summed up the evolution of military weapons before about 100 KU ROTC cadets, instructors and others in the Military Science building.
Faulkner's lecture began with what he jokingly referred to as the "model 1" rock and proceeded through the use of swords, muskets, repeating rifles and weapons of today.
About 20 guns were displayed on tables. Among them were a primitive handgun on a long wooden stick, World Wars I and II rifles and a Thompson submachine gun. Also on display were modern machine guns used for ROTC training.
"He brings history alive," Army Lt. Col. John Basso, an ROTC military science professor, said of Faulkner.
In the Middle Ages, when long bows and swords were used, combat was "about manpower, horsepower, weapon power and muscle power," Faulkner said. "The first handgun didn't amount to much, but they are going to give ideas about what they can do."
Today's military personnel can learn from the use of the early weapons and how they affected combat tactics, said Army Capt. Aaron Cornett, assistant military science professor in the KU ROTC program.
"If gunmen understand how they were used in the past, they'll be more effective in the future," Cornett said.