5 Questions: Firework safety
Tonganoxie Fire Cpt. John Calaghan weighs in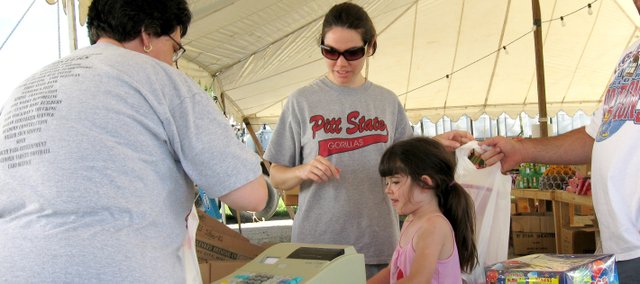 Q: What is a typical Independence Day weekend like at the Tonganoxie Fire Department?
A: There is usually not a lot of difference between the Fourth of July and any other day. We will have routine medical calls and the possibility exists for some kind of a fireworks-related incident.
Q: What fireworks are not permitted in Tonganoxie and why?
A: The State of Kansas does not allow bottle rockets and has strict regulations against possessing and setting them off. "Display fireworks," those that are used in commercial displays, require special licensing and persons found in possession of them without a license or permit will be in violation of state law.
Q: When can residents start using fire works in Tonganoxie?
A: Fireworks can be discharged on July 3 and 4 only. Stands are allowed to sell fireworks beginning June 30, but they cannot be discharged in the city until July 3. Hour of discharge are 8 a.m. to 11 p.m. both days.
Q: Do you have any accounts of fireworks-related injuries or structure damage?
A: Many injuries go unreported to us but I am confident that they do occur within the city limits. We have had several instances of grass fires from fireworks being discharged in an area with dry grass and there have been several instances of improperly discharged fireworks causing property damage. In one case a rocket-type devise hit the window of a house and broke two panes of glass. If it had broken a third pane of glass, it would have entered the house and surely started a fire. As it was, it did quite a bit of damage to the side of the house.
Q: What tips do you have so residents can have a safe Independence Day?
A: Use the devises as intended, follow manufacturers guidelines and properly supervise children when discharging fireworks.