VFW

commander hands over post leadership
Tanking steps down after serving as leader of Post 9271 for past three years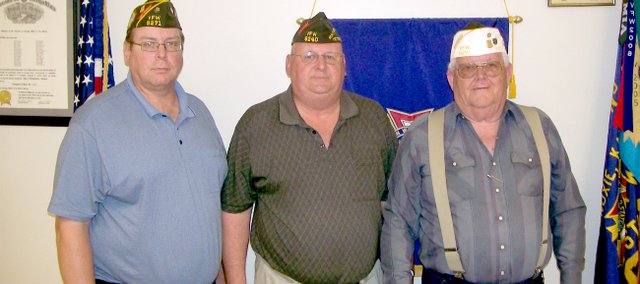 Tonganoxie's Veterans of Foreign Wars Post 9271 has conducted a change of command.
Three years ago, Elmer Tanking took command of VFW Post 9271. This past month he relinquished his command to Dan Hopkins in an installation ceremony led by the former VFW National Sergeant of Arms Barry Hoffman.
During his three years as the commander, Tanking oversaw the expansion of the Post Home, an increase in membership to over 200, and achieved All State Post three times. Post 9271 has the longest streak in Kansas for continuous 100 percent membership at 19 years. The post purchased a bugle for taps and has conducted dozens of funerals for veterans and numerous memorial ceremonies. In 2007, Tanking and Post 9271 provided Tonganoxie Middle School with the equipment to form a color guard and drill team.
On June 14, Hopkins assumed command of the post and will conduct his first meeting on July 8. Hopkins retired from the Army in 2004 after 23 years of service. He and his family have lived in Tonganoxie since 2001. Hopkins stated that he is honored to lead such an active veteran community service organization and proud to assist veterans.
In 2010, Post 9271 will celebrate its 25th Anniversary. The monthly business meeting is conducted on the second Wednesday of the month at 7:30 p.m.