Post 41 splits with first-place Easton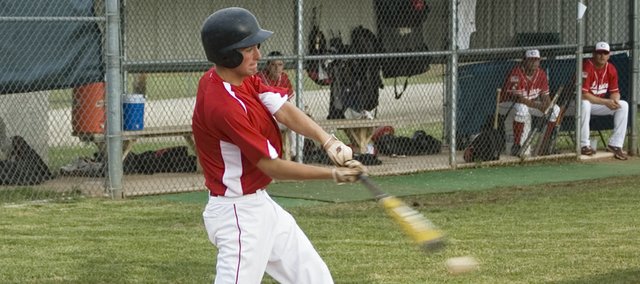 Tonganoxie Post 41 handed the Easton Outlaws their second loss of the season, splitting a doubleheader with the Post 23 League's first-place squad on Wednesday at Leavenworth.
Post 41 won the first game, 6-5, before losing, 14-10, in the second contest.
Blaize Oelschlaeger threw all seven innings of Tonganoxie's win and secured the victory by striking out Easton's final batter with runners on second and third.
Tonganoxie (12-5) scored the bulk of its runs in the first inning, crossing the plate five times. Mark Stewart hit a two-run double. He was driven in on a double from Grant Ebbert, who scored later in the inning. A.J. Gilbert also drove in a run.
Post 41 scored its sixth run in the third inning, when Oelschlaeger singled and was brought home by an Ebbert single.
Oelschlaeger walked one batter and fanned six.
Jeremy Wagner was 2-for-2 at the plate and scored a run.
Easton (9-2) scored in bunches in the second half of the twinbill. The Outlaws plated four in the third to take an early lead and added nine in the fourth, when Tonganoxie threw four different pitchers and couldn't find the strike zone. To make matters worse, the defense made some costly errors as well.
With an Easton run in the fifth, making the score 14-6, the game could have ended in mercy-rule fashion had Tonganoxie not scored four in the bottom of the inning.
Corey Klinkenburg, Oelschlaeger, Ebbert and Wagner each scored in the fifth but the game was still called after that because of a two-hour time limit.
"I kind of liked our chances had we gotten a full seven innings in," coach Pat Bailey said. "The one bad inning, though, hurt us both in runs allowed and the amount of time to get three outs."
Klinkenburg scored three times in the loss and went 2-for-3. Oelschlaeger was 3-for-3 with three runs. Mark Stewart went 2-for-3 and scored twice.
Just six games remain on Tonganoxie's regular-season schedule. Easton plays eight games this coming week and would have to lose four times with Post 41 going unbeaten for Tonganoxie to move into first place.
Tonganoxie's next twinbill is Monday at Piper. On July 9, Post 41 is at home for games against the Lansing Cubs. The team's final regular-season game is Sunday, July 12 at Lansing, against the Reds.