Ahead of the curve:
THS

boys go 11-5 in summer
New additions to Chieftains lineup thrive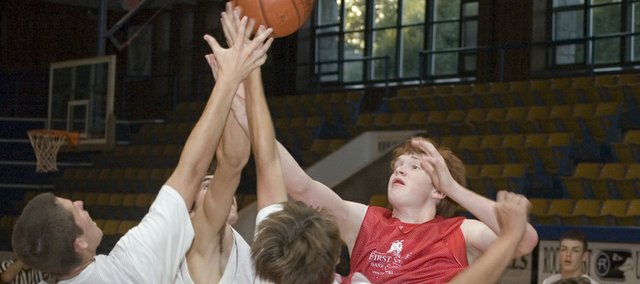 Photo Gallery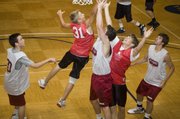 Tonganoxie High boys basketball at Rockhurst
Every Monday night in June, the Tonganoxie High boys basketball team played two games in a summer league at Rockhurst University in Kansas City, Mo. The Chieftains finished 5-5 in the league.
It may be summer but Tonganoxie High's boys basketball team spent the past few weeks dodging a potential December problem before it could morph into one.
Gone from a rotation that lost to eventual Class 4A champ Basehor-Linwood in a sub-state final are starters Austin Smith, Jace Waters and Jamie Everett, as well as backup guard Rob Schlicht. Their graduation from THS leaves quite a void.
Instead of having a new lineup with players still getting used to each other this winter, the Chieftains should have a ready-to-go attack after competing in 11 games this summer.
THS played in the Rockhurst University summer league every week in June, going 5-5, and went 6-0 at the Creighton University team camp the weekend of June 20.
Starters Keaton Schaffer and Jeremy Carlisle led the way for the Chieftains in summer play as the team went 11-5 but just as important was the development of former role players who will see more minutes and younger players who will be new to regular varsity playing time.
Tonganoxie coach Shawn Phillips said the development of underclassmen such as sophomore center Dane Erickson and new players such as Eudora transfer Austin Vickers was crucial.
"Having our young guys play with us is gonna help out a lot because there are teams that we face (at Rockhurst) that would be a high quality team in our league," Phillips said. "They're getting a chance to see competition similar to what they might see or even better than what they might see in some cases."
Among Tonganoxie's younger players, Colby Yates provided good minutes as a backup guard, Ben Williams got a taste of point guard duties and Keith Slater displayed the ability to drive the lane without intimidation. But Phillips said Erickson's development inside, where the team really needs help, made him happy.
The coach said Erickson might have played better than anyone at Creighton, looking stronger, faster, more assertive and ready for the varsity lineup.
"Dane was a very aggressive player," Phillips said. "He ran the floor well — that's something we hadn't seen out of him, the ability to get up and down the floor and score in transition."
The pace, Erickson said, took some getting used to but it came easier after playing for a KC Premiere summer team as well. Although he considers getting rebounds his main duty, Erickson learned in a hurry that it paid to run the floor with Tonganoxie's guards and forwards.
"That's how I get the majority of my points," he said.
Schaffer said Erickson, a rising sophomore center, used his length and touch effectively in the paint.
"He can take it inside and score almost every time," Schaffer said. "If we can get the ball in the post, he's going to put it in. It's nice to have a post guy that can do that."
Another player who will help Erickson take on interior responsibilities is Justin Jacobs. A suitable backup last season, Jacobs emerged this summer as an aggressive rebounder and defender.
While returning players such as Dylan Scates and Brandon Yoder will certainly be in the mix for playing time this coming season, two key cogs with the most to gain this summer were Erickson and Vickers.
Schaffer said Vickers, a rising junior, picked up things in a hurry to become a natural fit in the THS lineup. Vickers knew his assignments, playing inside and outside for the Chieftains, while showing a knack for defense. With Vickers and Erickson adjusting to their new roles, Schaffer said he was glad he got to play with them a lot this summer.
"It was a huge help because they both need to understand what it takes to compete at the varsity level," Schaffer said.
After a summer of getting-to-know-you hoops against quality competition, Phillips said the Chieftains should be prepared when the season begins.
"There won't be any shock value, hopefully," he said, "when they step out on the court."