Dreams of Cooperstown glory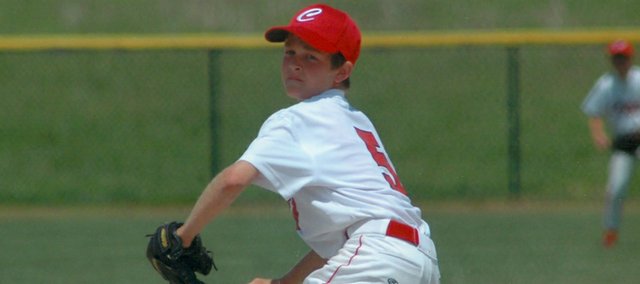 A Tonganoxie youth baseball player is chasing a dream and needs a little help to reach it.
If Connor Wentz-Hall, a seventh-grader at Tonganoxie Middle School, wants to play with his Kansas Coyotes team July 18-24 at Cooperstown Dreams Park in New York, he has to raise $1,000 for the cost of the trip.
Wentz-Hall is selling Sonic cards for $5 apiece but is looking for even more help by offering handyman type services — washing cars, cleaning garages, painting fences and more — to anyone interested. He hopes by volunteering for enough odd jobs he can receive the donation money necessary to make the trip.
In addition, corporate sponsors can have their names put on the team Web site, www.eteamz.com/kansascoyotes, and team banner, which is displayed at all games.
The $1,000 covers trip expenses for Wentz-Hall only; his parents have to pay separately to join him and the money he earns won't be used for family expenses.
Anyone interested in helping Wentz-Hall can call him at (913) 680-7756.
The Kansas Coyotes are a 12-and-younger USSSA baseball team that competes at the Majors and AAA level. Baseball teams have to be ranked in the top 15 in their state to qualify for the Cooperstown tournament and the Coyotes are 12th in the Majors and ninth in AAA.
Participants at the Cooperstown Dreams Park National Invitational Tournament are inducted into the American Youth Baseball Hall of Fame.
For more information on the tournament, visit www.cooperstowndreampark.com.