Post 41 picks up road sweep, improves to 14-5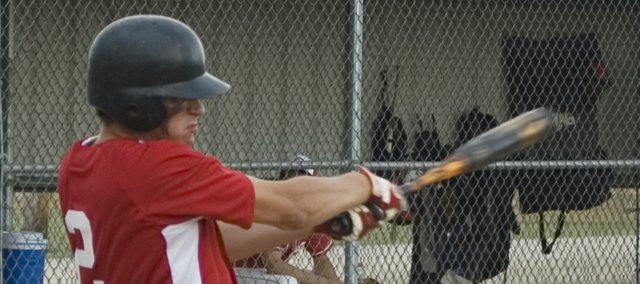 In just nine innings, Tonganoxie's Post 41 baseball team swept Piper in convincing fashion on Monday night with wins of 10-1 and 12-2.
Post 41 (14-5) jumped out early in the first victory with a four-run first inning. Brett Bailes led off with a single and stole second before advancing to third on a single from Corey Klinkenburg. Both runners scored on a Blaize Oelschlaeger double. Grant Ebbert drove in Oelschlaeger. Mark Stewart reached on a fielder's choice and was driven in by Jacob Stauch.
With two down in the second, Tonganoxie added three more runs. Bailes once again singled and stole second, and scored on a Klinkenburg single. Oelschlaeger, who went 3-for-3, walloped one of his two RBI-triples in the game before scoring on a throwing error.
With one more run in the third from Jeremy Wagner and two in the fourth from Klinkenburg and Oelschlaeger, Tonganoxie had no problem holding on for a nine-run, five-inning victory with good pitching and defense.
Wagner threw a complete game for Post 41. He only walked one Piper batter and sent the opponents down in order in the fourth and fifth innings.
It was more of the same in the second half of the twinbill with Post 41 rolling to a 10-run, four-inning victory.
This time, Bailes was on the mound. He struck out three while walking just one.
Although Tonganoxie didn't build an insurmountable lead early, the team caught fire in the fourth, scoring seven runs.
Kyle Newton and Ryan Stockman both singled to start the fourth and Bailes drove in Newton. Amos White scored Stockman with a sacrifice fly. Klinkenburg plated Bailes with a single. Next, Wagner and Oelschlaeger drew walks, loading the bases for Ebbert, who drove in a run with a single. Stauch hit a two-run single. Stewart then drove in the game-winning (mercy rule) run with a single that scored pinch runner AJ Gilbert.
Klinkenburg and Stauch both went 3-for-3 in the 10-run win.
Post 41 coach Pat Bailey said his team is playing good baseball near the end of the season with just two regular-season doubleheaders remaining.
"Hopefully we will be peaking at the right time," Bailey said. "Nice to see us swinging the bats a little better and even nicer to get good performances from our starters on the mound.
"Hopefully we can carry this on through the end of the season and keep it going heading into league and zone tournaments."
On Thursday, Post 41 is at home for games against the Lansing Cubs. The team's final regular-season twinbill is July 12 at Lansing, against the Reds.