Tonganoxie softball team ready to play for Matzeder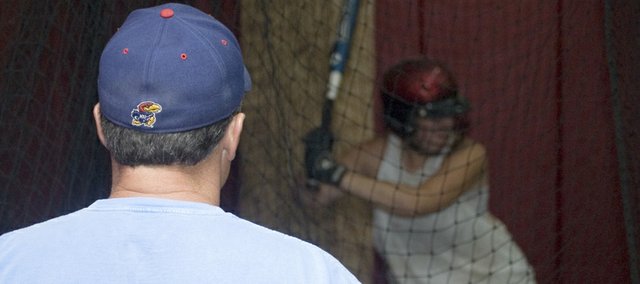 New Tonganoxie High softball coach Lee Matzeder is thrilled about his position — and so are the players.
Once Matzeder, a two-year varsity assistant at THS, was officially hired on June 29, he started calling players to let them know.
"Everyone that I've talked to has been really excited," he related.
That's because he brought a fun, lively attitude to the Tonganoxie dugout. Chieftains infielder Lindsey Fatherley said that, as an assistant, Matzeder cracked jokes and kept the players going when they were having trouble staying energetic.
"He's always bringing energy to the table," Fatherley said.
Matzeder likes joking around with the players and making softball an enjoyable experience.
"You've got to have fun when you are out there," he said, "and I don't know if they were quite having as much fun as they possibly could — winning's fun, losing's not fun."
After posting losing records the past two years — 7-12 in 2009, 10-12 in 2008 — the new head coach wants to get THS back on the positive side of .500.
"I'm hoping, just this first year at least, we can win more than we lose," Matzeder said. "I'm all about winning. I don't like to lose, but I don't know who does."
By taking "baby steps," he said, Tonganoxie should focus on a winning record first and then, of course, he would like to win a regional tournament and go to state.
Fatherley said she has confidence in Matzeder's ability to get the program back on track because he has seen up close what needs to change.
"He has been on the side for two years," she said, "and he's got to see what's not flowing and what is flowing, so he can make those adjustments real easily."
Although Matzeder has enjoyed an open, talkative relationship with the players the past two seasons with no plans for that to change, he said there are some issues he wants to address and resolve.
First, the coach looks forward to teaching the "fine details" of softball.
"I don't want to assume that they know anything because I don't want to leave a stone unturned," Matzeder said.
Additionally, he expects to see a difference in the players' attitudes.
"Kids want structure, want discipline," the Lansing Elementary School physical education instructor said, noting there will be definite team rules and understood consequences.
"That wasn't happening the last couple of years," he added.
The new Chieftains coach got his first interaction with some of the players Monday morning as they had batting practice at THS. Matzeder said it was nice to be able to talk with the players, work with them and ease through what he expects will be a smooth transition from former coach Diane Titterington's leadership to his.
Before joining Titterington's staff two years ago, Matzeder was the junior varsity coach at Lansing for two seasons. From 1998-2001, he was the junior varsity coach at St. Thomas Aquinas. Although he didn't coach from 2001-05, he worked regularly as a softball umpire, and still does so on weekends.
THS assistant coaches Susan Kuzmic and Stacy Wall will remain on Matzeder's staff. He doesn't yet know whether a fourth coach will be added.