Band pays tribute to Riedel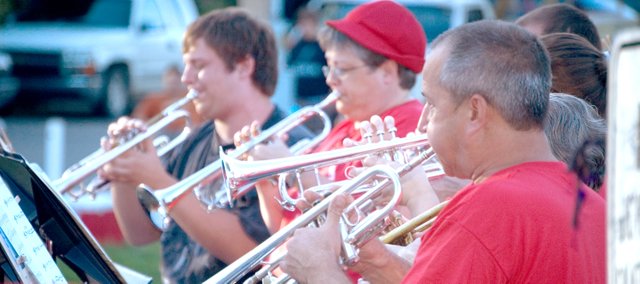 The Tonganoxie Community Band played in front of roughly 180 people June 30 at VFW Park.
The 43-member band also played a song for someone who could not be in attendance.
Director Charles Van Middlesworth spoke before most selections, providing background information about the songs and composers.
Before the band played "Achy Breaky Heart," he noted the song was being dedicated to Richard Riedel, who died June 29. Van Middlesworth spoke about Riedel's contributions to the Tonganoxie School District and specifically the high school music department. Riedel volunteered to help with moving equipment and also went with the band to all three of the bowl games in which it performed.
Van Middlesworth said Riedel always encouraged him to play country music. For Tuesday's concert, Van Middlesworth dedicated the country tune to his good friend.
The concert opened with the playing of "The Star-Spangled Banner." In total, the band played 13 songs — some patriotic, some from movie soundtracks and others from various eras. For instance, the band played "Surfin' U.S.A." and then "Under the Boardwalk," and it also performed "Benny Goodman: The King of Swing" and music from "Harry Potter" and "Cars."
Several soloists were featured during the concert, and there was a fair share of audience participation. During "Salute to America's Finest," the band played official songs for each branch of the Armed Forces. When the band played specific tunes for each branch, people who served were asked to stand to be recognized.
Musicians throughout the area participated in the eighth annual concert. Band members met on Tuesdays throughout June to practice for the concert.
One of those musicians was Sister Peg Johnson, who was Van Middlesworth's music instructor at Bishop Ward High School in Kansas City, Kan.
Johnson, who played trombone in the community band, called the experience "fantastic."
She also spoke about Van Middlesworth's talent and enthusiasm.
"What you see now was embryonic then," Johnson said of Van Middlewsorth in high school. "It's a gift, it's a gift. Pure gift.
"I told him when he was in school, I said it wasn't talent, it was a gift from God."
Johnson now works at the Sisters of Charity in Leavenworth and plays in the University of St. Mary band throughout the year to keep her "chops in shape."
The Tonganoxie VIP booster club, which supports Tonganoxie School District music departments, served hotdogs and drinks before the concert.
Here is the list of participants in this year's community band:
• Flute/piccolo
Rachel Bieniecki, Lynette Boelling, JoAnn Ferguson, Mary Gergick, Michelle S. Hartpence, Erin Malone, Mariah Neff, Amanda Sawalich and Caitlin Tinsley.
• Clarinet
Carolyn Barnes, Betty Clark, Chelsea Ogden, William Rhodes Jr., Lanny Seebeck, Morgan Tinsley, Connie Torneden and Ryan Wolfe.
• Bass Clarinet
Stacy Crook-Collinge
• Alto saxophone
Janet Falk and Beverly Muzzy
• Tenor saxophone
Denise Bixby, Mallory Harrell and Terri Tinsley.
• Baritone saxophone
Tyler Fraedrich and Megan Woods
• Trumpet
Paul Mast, Katie Miller, Kevin Miller, Virginia Mills, Geoffrey Towns and Justin Willmeth.
• Trombone
David Falk, Lauren Harrell and Peg Johnson.
• French horn
Jonathan Price
• Baritone
Steve Howell and Ray Stockman.
• Tuba
Hank Somers
• Percussion
Rex Hancock, Jonas Myers, Gloria Solomon and Kelsey Stockman.
•Bass
Steve Ward