County appraiser steps down after 15 years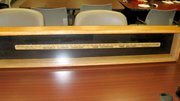 Before the Leavenworth County Appraisers office got its new space on the second floor of the courthouse five years ago, the sound of a wooden yardstick tapping on the floor could only mean one thing: Donna Graf was going to find a way to fit more people or furniture into their 25 foot by 25 foot office.
Kelly Buchanan, who worked with Graf, the former county appraiser, for more than 11 years, said everyone in the cramped office would get nervous whenever they heard the tapping sound because it was time to rearrange.
"That woman could put more furniture in the least space and make it functional," Buchanan said. "She knew every piece of furniture and exactly how much space it would need. When we moved to the new office we told her that the new furniture was fixed to the wall."
Now, after a total of 24-and-a-half years in the county, Graf, along with her trusty yard stick, which she thought had been thrown away but was secretly kept by her coworkers, has decided it is time to retire.
While Graf said she wasn't going to miss getting the property taxes mailed out to county residents and having to go through hearings, she was going to miss the people.
"A lot of us have been together for many years … we really were a family," Graf said.
Over the years as the county appraiser, Graf said what had made the work worthwhile was the people with whom she interacted. As the county invested more resources into the appraisers office, Graf said the quality improved.
"There is such a good staff there now and they made the work easier," Graf said. "Now the taxpayers get more professional people and the work they produce is just that much more professional. I considered it a privilege and an honor to work for the county and the taxpayers."
Bob Weber, former deputy appraiser who took over Graf's position on July 1, said that employees were very important to Graf.
"She always looked after her employees and always took good care of us," he said.
Graf began her work in the county in 1979, when she was an entry-level clerk at the County Appraiser's office. After four years and a promotion to the position of deputy appraiser, Graf and her family moved out of town. In 1985 she was hired back to the appraiser office, but this time as a reappraisal coordinator to help the county be compliant with mandates for a state-wide reappraisal. After the four-year position ended, Graf took another break from the county before coming back to the Leavenworth County Clerk's office in 1993. Later that year she took her old position as deputy appraiser before being appointed as the county appraiser in November of 1994. She stayed on until her last term expired on June 30.
Now, just a little more than a week after her retirement, Graf said it still doesn't feel like she's gone.
"It's more like I'm on a vacation," Graf said Monday. "There still haven't been enough days to know what retirement feels like."
While Graf wants a quieter life with less stress, she still wants to do something with her time such as volunteering at St. Vincent Clinic in Leavenworth or following her daughter Lindsey Graf, who is an assistant volleyball and girls basketball coach at Tonganoxie High School.