District prepares for cuts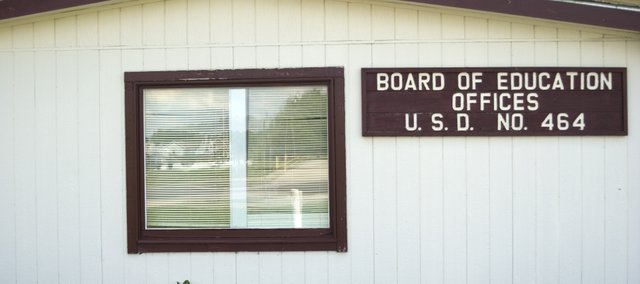 Kyle Hayden's title changed from assistant superintendent to superintendent on Wednesday, July 1, in the Tonganoxie School District.
The next day, Gov. Mark Parkinson announced public schools and higher education funding would be cut by 2 percent as part of his budget-reduction plan.
"It's definitely not the ideal circumstance to begin as a new superintendent to a district," Hayden said. "But there's 290-plus other superintendents and school districts who are dealing with the same issues I am and our situation isn't by any means unique."
He said that means providing the best type of education possible and doing the best the school district can "to keep things afloat."
Hayden said the district is looking at a $150,000 reduction in state funding, based on enrollment figures from the 2008-09 school year.
"For us, obviously it's not good," Hayden said. "And it just puts more stress on our budget and makes us have to tighten our belts even further."
However, Hayden said the cuts that the district has implemented thus far have allowed for "a little bit of room" because of the anticipation of the cuts possibly coming.
The district has effectively planned for the cuts, Hayden said, but any additional cuts could tell a different story.
"Maybe mid-year, like they did this year, or further reduction for the 2010-11 school year, then we're looking at a brand new ball game, " Hayden said about any potential cuts in the future.
The topic will be discussed at the next regular school board meeting, scheduled for 6 p.m. Monday at the Tonganoxie Middle School library. A meet and greet for new board members Kris Grinter and Dan Hopkins will start at 5:30 p.m.
"The hardest thing is to try to make progress in the face of having limited resources to do so," Hayden said. And we had been in search of alternate sources of funding."
Hayden said he wants to build a budget that doesn't put extra pressure on taxpayers because economic times are not very good for them. He noted doing the best the district can to be fiscally responsible as well.
Typically in years past, the budget has been brought to the board at the July meeting and then the budget hearing is held during the August meeting. He said with the recent developments at the state level, a special meeting would be held later in July for a budget presentation.