Resident utilizes nursing center for rehab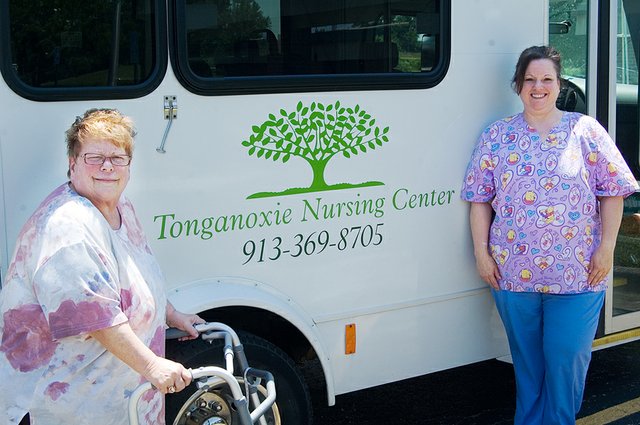 Pattie Frost has been accustomed to being on the go all of her life.
A longtime employee of Hoosier Racing Tire, Frost, who is 59, has been on the road for various racing events — and has raced herself.
But when the rural Tonganoxie resident had hip surgery earlier this year at Providence Medical Center in Kansas City, Kan., she needed to slow down.
With just her husband, Jack, who has a full-time job, at home and Pattie unable to drive for eight weeks after surgery, she decided it would be better to recuperate at a facility where rehabilitation is offered.
She had planned to start the road to recovery at nearby Providence Place, a nursing center that also offers therapy and rehabilitation services.
However, the center did not have any vacancies and Frost was scrambling to find an alternative.
On a whim, she said, Frost contacted the Tonganoxie Nursing Center about whether they offered similar care.
Luckily for Frost, the facility did. She stayed at the nursing center in a swingbed and went through rehabilitation there.
Frost had surgery April 13 at Providence Medical Center. On April 17, she moved into Tonganoxie Nursing Center. And on May 8, she returned home.
It's an option Frost initially didn't think of, as the nursing center primarily cares for elderly patients. But there have been other people, regardless of age, Frost said, who have utilized the nursing center's resources. Frost praised the staff at the nursing center for its care, the quality of food and the cleanliness of the center.
"I think the benefits far outweigh any of the negatives," Frost said, noting her recovery time was better because therapy was available on site at all times. "The benefits of having skilled nursing to take care of you; therapy right there."
Negatives were not being at home and not being familiar with the new surroundings, Frost said.
In the process of being at the nursing center, Frost also had the opportunity to join nursing center residents for various field trips they took throughout the area.
According to Lindsey Olson-Halsa, a licensed certified occupational therapist assistant, the nursing center offers in-patient and outpatient services and has a wing dedicated to rehabilitation-to-home patients. Outpatients services are offered in several areas, including strokes, knee, hip and cardiovascular problems, just to name a few, Olson-Halsa said.
"Whatever it may be, we supply therapy," Olson-Halsa said.
Rehabilitation patients have ranged in age from 50-85, Olson-Halsa said, noting there aren't age requirements, but patients would need to meet certain insurance requirements. The main concern is the payer source, Olson-Halsa explained, and whether it covers therapy, because some insurance companies do not.
Health issues
On April 27, 2006, Frost was diagnosed with breast cancer. A few days later she underwent surgery. A biopsy found that she had the cancer for about four years. Frost said the last time she'd had a mammogram was about four years before being diagnosed.
"It hurt like hell, so I didn't go back," she said about her mammogram.
Frost now urges other women, no matter what, to schedule mammograms on a regular basis.
Though chemotherapy can be a miserable experience for many, Frost said she didn't experience any side effects during her 18-week treatment.
However, as doctors told Frost, the radiation attacks all cells and it also attacked her rheumatoid arthritis and affected vertebrae in her lower back. Eventually, she was dealing with bone against bone in her hip, also because of the chemotherapy. That led to a pinched nerve, which was attributed to several falls, 12 to be exact, in 2008.
That prompted Frost to proceed with the surgery.
Small world
Carrie Anderson, director of therapy at Tonganoxie Nursing Center, has worked closely with Frost. In the process, they realized a common connection — dragboat racing.
Pattie and Jack Frost — Pattie joked that it's his real name and not an alias — have a history in dragboat races. Jack raced the boats and Pattie organized the Kansas Dragboat Racing Association, which has grown to include other Midwest states.
Anderson's husband, meanwhile, is a dragboat racer.
"I said, 'no, no, we're the only dragboat racers in town,'" Frost recalled with a laugh.
That led to discussions about Frost's former work as a writer for a racing publication and their love for various types of racing.
"'You're the Storyteller,' which was my byline," Frost said about a conversation with Anderson. "You felt not a kinship, but you felt like she knows you, you know her."
Anderson said Frost was "the ideal rehab patient."
"She was a very motivated patient to be better," Anderson said. "Our focus, of course, is to get people independent and to their discharge goal."
Therapists make a home visit to make sure the house is accessible and safe before patients are released home. Frost received that OK and worked well with Kim Squire, registered physical therapist, and Tammy Reeves, registered occupational therapist, as well as Connor-Halsa.
Frost recalled a therapy session in which she had some balancing issues. She was asked to put one foot in front of the other. She couldn't do that, nor could she just stand on one foot.
"I'd be in trouble if I ever got stopped for a DUI," she joked.
Frost said she had to re-learn the mechanics of walking, but is getting along well. She said she continues to use the walker because it helps her feel "secure." But she noted she's also ready to graduate to a cane.
"It's like people say, 'Pattie, you couldn't ride a skateboard before you went in there.'"
Perhaps not, but she has made great strides toward independence.
"At 59, I had the humiliation of having to ask someone else to do something for me. And it wasn't because of pain, it was asking someone to do it, because I've always been able to help myself."
Thanks to the nursing center's rehabilitation services, Frost is able to do just that again.