Blazing fast summer for sprinter Lindsay
New running style makes
THS

sprinter faster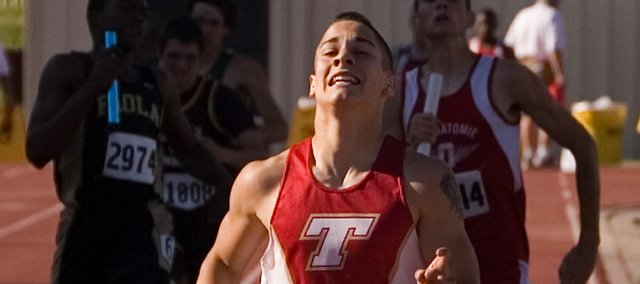 After helping Tonganoxie High win a state championship in the boys 4x400 relay this year, DJ Lindsay could have coasted in the offseason.
A summer of relaxation sprinkled with some individual workouts wouldn't have been bad. The THS senior easily could have maintained his speed, strength and conditioning.
However, Lindsay is not one to coast. The lightning-quick Chieftains sprinter only knows overdrive.
That's why — even though he hesitated at first — Lindsay decided to join the Kansas City High Performance AAU track club this summer. His initial reluctance stemmed from the thought that signing on would take up his free time. He was right about that.
Two days a week, Lindsay joins his 4x400 teammates for practice in Leavenworth and although they take Wednesdays off, the sprinters spend their other two weekdays traveling to Ruskin High in Kansas City, Mo., for more practice with KCHP.
Lindsay said the investment has been worth it. Running the 200, 400 and 4x100 as well for the club, he has been improving his times, shaving off valuable seconds.
"Hopefully, by next year in high school I'll be way down there," Lindsay said.
The secret to his success has been a new running approach taught by KCHP's volunteer staff. Based on the mechanics of Jamaican sprinter Asafa Powell, Lindsay said the technique, which he described as a "roto style," has been exceedingly helpful. Through drills, which his AAU coaches wouldn't let him complete until he got them exactly right, Lindsay found himself running faster than ever.
"You speed up in circles and instead of reaching for the ground, you're grabbing it," Lindsay said of the rounded leg motion involved, which he noted was extremely helpful in the 400. "You get on that back stretch and you're tired most of the time — you keep pushing and pushing to try and get ground. But if you go roto, you just kind of glide."
Now when he hits the last straightaway in the 400, Lindsay has more arm action, picks his knees up higher, leans back with more upright posture and stretches his legs out farther.
All that put together makes Lindsay quite a weapon in the 4x400. He and his teammates — all from Leavenworth County — have gelled and taken off. Lindsay is the anchor for the 1,600-meter relay with Bay Abbott, St. James Academy, and Leavenworth's Justin Logan and Johnny Barnett.
The quartet ran the 4x400 in 3:19 (four seconds better than Tonganoxie's state championship time) on June 20 at Olathe. The lead sprinters have been running their splits in 48 or 49 seconds and Lindsay has been clocked as low as 47 seconds. KCHP coaches want the team down to 3:15 in time for the AAU Junior Olympic Games the first week of August in Des Moines, Iowa. Their next chance to propel toward that goal comes this weekend in Edwardsville, Ill., for the AAU National Qualifier Meet.
Regardless of what happens there, Lindsay is glad he didn't take it easy this summer. He had it much better training with some of the top athletes in the area. Besides, Lindsay admitted, if he were working out on his own, he wouldn't have known what to do to keep improving.
"It takes a lot of dedication and time to do it," Lindsay said of running for KCHP. "But it's a good opportunity and I'm getting to meet a lot of new people, and it really gets your name out there, so I'm happy."