Significant strokes: Tidal Waves enjoy first-year success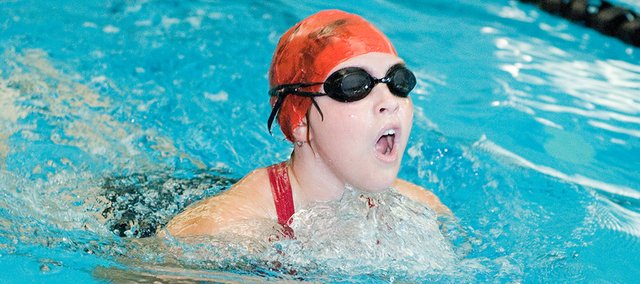 Photo Gallery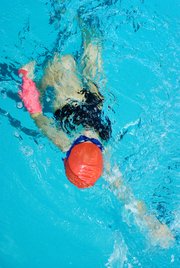 Tongie Tidal Waves
The Tongie Tidal Waves swimming team completed its inaugural season on Friday at the Lake and Country Club League Championships, held at Turner Aquatic Center in Kansas City, Kan.
Kansas City, Kan. — The new kids in the pool made some waves Friday at Turner Aquatic Center.
In their first season of existence, the Tongie Tidal Waves not only had two swimmers finish first at the Lake and Country Club League Championships, but also combined with the Turner Barracudas to finish fourth in the team standings.
Luke Falk won the 10-and-younger boys butterfly and Asher Huseman was on the winning freestyle relay team in the 12-and-younger boys division.
Because the top 16 swimmers in the league compete in the finals of each race, Tidal Waves coach Janet Falk said those league titles were a big deal.
"That's the cream of the crop," the coach said.
Given that Friday marked the close of their inaugural season, Coach Falk said the Tidal Waves were just as excited about their fourth-place finish in the team standings with Turner (because Tongie has 35 members and Turner has 28, the squads combine to compete with other teams, which have rosters of 70-plus).
"We were elated because this is our first year out and, honestly, we weren't sure how we were going to do," Falk said, noting that the top three teams in the standings — Lake Quivira, Lake Forest and Bonner Springs — have 70 to 100 swimmers on their teams.
The Tonganoxie team also had a few second-place finishers at the league finals. Gad Huseman and Luke Falk were part of a silver-medal freestyle relay team in the 10-and-younger boys division while 14-and-under girls Sidney Grinter and Rachel Woods swam for a second-place freestyle relay team.
Regardless of times and places, the Tidal Waves felt as though the season was a success. Lee Maughmer, 13, said he likes everything about the team and had fun on Friday.
"I've been getting better," Maughmer said.
This was the first year Sophia Breedlove, 12, had ever competed on a swim team and she is glad to be a Tidal Wave member.
"It's fun, and you get to meet people," she said.
There's a great deal of camaraderie for the swimmers as they practice together and hang out in between races at meets. A lot of the swimmers, such as Abigail Frye, 9, use markers to write things on their arms and backs. Frye had her friend and teammate Aubrey Head pen "Go Tongie Tidal Waves" on her back.
Most of Tongie's swimmers aren't new to the sport. Kennedy Morey, 11, and others used to swim for teams in nearby cities, but having a team in town, Morey said, was much better.
"It's easier to get up in the morning and go to a pool that you actually know about," she said.
David Falk, 13, also competed for other clubs in the past. He said the Tidal Waves were glad to attend 7 a.m. practices at Tonganoxie Water Park instead of going out of town.
He said the swimmers improved thanks to that work.
"We have fun but they are pretty intense," David Falk said of practices.
It all added up to what coach Janet Falk called a "phenomenal" debut.
"The kids did an amazing job for their first season," she said.
With this year behind them, the coach would like to see the Tidal Waves compete independently next season, so they don't have to team up with another squad. That would mean a much bigger roster. Janet Falk said she would be spreading the word, as will her swimmers. The goal is to double the team's numbers for next year.
For more information about the Tongie Tidal Waves, contact Janet Falk at (913) 369-5208.
Lake and Country Club League Championships
Friday at Turner Aquatic Center
Team standings
1. Lake Quivira; 2. Lake Forest; 3. Bonner Springs; 4. Tongie/Turner; 5. Piper; 6. Leavenworth
Tongie Tidal Waves results
Girls 6 and younger
Allyson Sparks — third, freestyle relay; fifth, freestyle; sixth, backstroke
Hannah Stieben — third, freestyle relay
Boys 6 and younger
Caden Hellman — third, freestyle relay, freestyle and backstroke
Girls 8 and younger
Meron Hayden, Bethany Head, Maria Stieben — fourth, freestyle relay
Boys 8 and younger
Alex Falk — fourth, freestyle relay; sixth, freestyle and medley
Girls 10 and younger
Abigail Frye — fourth, butterfly; fifth, freestyle; sixth, freestyle relay
Aubrey Head — fourth, freestyle relay; sixth, medley relay
Molly Monahan, Bailey Jackson, Grace Woods — seventh, freestyle relay
Nicole Tallent — fourth, freestyle relay
Ashley Stieben — fourth, freestyle relay; sixth, medley relay
Boys 10 and younger
James Breedlove — third, medley relay; fourth, freestyle relay
Rylan Hellman — third, medley relay; fourth, freestyle relay
Gad Huseman — second, freestyle relay
Zeb Huseman — fourth, freestyle relay
Luke Falk — first, butterfly; second, freestyle relay; third, backstroke, breaststroke and medley relay
Girls 12 and younger
Sophia Breedlove — third, freestyle relay; fifth, medley relay
Bonnie Monahan, Kennedy Morey — eighth, freestyle relay
Boys 12 and younger
Asher Huseman — first, freestyle relay; fifth, freestyle; seventh, butterfly
Girls 14 and younger
Sidney Grinter — second, freestyle relay; fourth, medley relay
Rachel Woods — second, freestyle relay; fourth, medley relay
Boys 14 and younger
David Falk — fourth, breaststroke; fifth, backstroke and medley relay; seventh, butterfly; eighth, medley
Lee Maughmer — sixth, backstroke and freestyle relay
Girls 18 and younger
Lacie Falk — sixth, freestyle relay
Nikki Gee — sixth, medley relay