Council agrees to move utility poles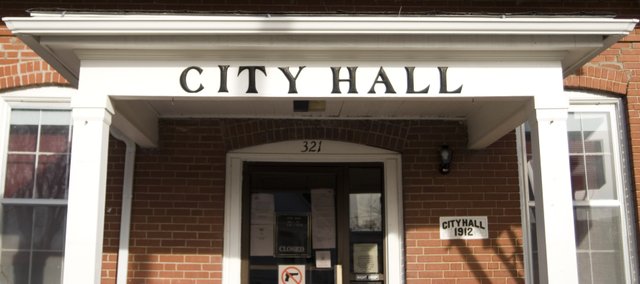 Fourth Street Phase III is back on… again.
On Monday, the Tonganoxie City Council unanimously voted to move forward with the Fourth Street Phase III project and accept Westar Energy's recommendations for the location of utility poles.
"I'm as frustrated as everybody else," councilmember Jason Ward said during the meeting. "I don't like for plans to change in the last minute. I don't like for residents to think one thing and then learn another, but at some point we need to make a decision that needs to be in everyone's best interest."
The council came to the decision after reviewing the comments made by Fourth Street residents during a June 30 meeting with the council and representatives from Westar to talk about the location of the poles.
The change in pole location came after Westar sent a letter informing the city the company would not be liable for any accidents that may occur if their recommended guidelines were not followed.
The road improvements were designed to have the poles 1.5 feet behind the curb, but Westar said their new policy wouldn't allow for poles to be placed so close to the curb because of the danger it would pose to drivers if they left the road near the pole. Brian Kingsley of BG Consultants, the city's engineering firm, echoed the concern during the June meeting stating that any more reaction time that could be given to a driver to return to the road was needed.
Council member Jim Truesdell said it was "mind boggling" to have Westar change its plans at the last minute and asked if the city would be violating any agreements by taking Westar's recommendations
Mike Kelly, the city attorney, said he wasn't aware of any verbal agreements made by Chris Huffman of Huffman Corridor Consulting, L.L.C., who was contracted to acquire the utility easement from residents along Fourth Street, but the written agreement made no mention of exactly where utility poles would be placed.
Truesdell said that in the future the city needed public involvement in planning a street before any final plans are drawn up.
"Church Street is going to be a heck of a project," he said. "It's going to make Fourth Street look like a cakewalk unless we do some planning ahead of time and get these issue resolved ahead of time before we get into design so people know what he city is expecting and we know what they are expecting."
Councilmember Paula Crook, whose home is affected by the rode improvement, agreed that the city needed residents to be involved earlier in the planning stages of projects.
"It's a lesson well learned," she said.
In other business the council:
• Listened to a presentation about the Leavenworth County Airport Feasibility Study.
• Met in executive session for 15 minutes for attorney client privilege with Kelly and City Administrator Mike Yanez.
• Met in executive session for 15 minutes to discuss the acquisition of real property with Kelly, Yanez, Kathy Bard, the assistant city administrator, Bill New and David New.
• Met in executive session with Bard, Kelly, Yanez, Gary Nelson, attorney, and Sandie Ghilino, realtor, to discuss financial affairs or trade secrets for 20 minutes.
• Unanimously voted to approve the cereal malt beverage license for Debi Meyer for the business formerly known as Corky's.
• Unanimously voted to contract with BG Consultants to provide construction inspection on the road improvements on Second and Cox streets in an amount not to exceed $10,000.
• Unanimously voted to schedule a special meeting at on July 20 at6 p.m., for a 2010 budget work session.