Local youths partake in
TRC

summer play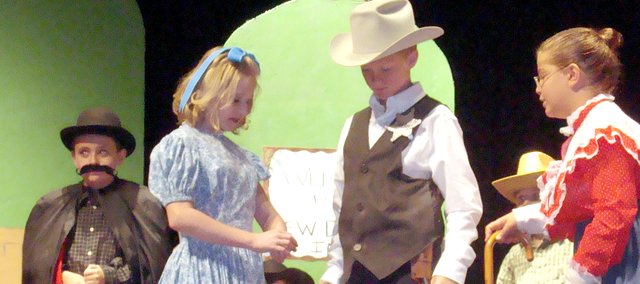 A production of "The Paper Bag Bandit Rides Again" was Wednesday, July 8 at the Tonganoxie High School Performing Arts Center.
Pam Slawson directed this year's production, which had a cast of 25 boys and girls ranging in age from 6 to 13. An estimated 150 people laughed and cheered as Sheriff Buzz Saw captured the villain, Sludge Slyskull, and won the heart of his darling Clementine.
Cast members were: Danielle Irwin, Emily Edmonds, Audrey Miller, Quin Smith, Annabelle Frese, Courtney Cruickshank, Emmett Keene, Aubrie Wheeler, Reagan Fowler, Jake Brents, Gage Smith, Nathan Bothwell, Brooke Vicory, Ethan Edmonds, Brenna Kietzman, Anna Edmonds, Sarah Brundage, Natalie Wolf, Madeline Bachelor, Lauren Lawson, Calvin Morgan, Emma Morgan, Grace Wogomon, Caia Niemeyer and Cadyn Niemeyer.
The Tonganoxie Recreation Commission was appreciative of the cast and crew's wonderful performance and was thankful to all the friends and family members who helped with costumes, makeup, props and much more. TRC would also like to thank the Tonganoxie United Methodist Church and Steve Harrell with the THS Performing Arts Center for use of their facilities, and pianist Denise Bixby.