Online programs offer a good fit for professionals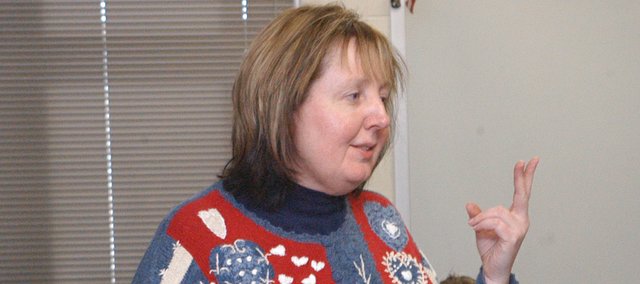 When she decided to pursue a master's degree, Eudora USD 491 director of curriculum and instruction Marla Johnson knew what she wanted, but she wasn't sure how to find it.
It was 2006 and she was teaching math at Eudora Middle School. She wanted to get a master's degree in curriculum and instruction, but she wanted to add an area of emphasis to her degree. However, many of the degree programs she found at traditional colleges were more general than that.
Then, representatives from Mind Streams visited with teachers in the Eudora school district. Johnson's path became clear.
The company was instrumental in pairing Johnson with Phoenix-based Grand Canyon University, where in May 2008 she received a master's degree in curriculum and instruction with an emphasis in instructional technology.
"I would have had to do a lot more research in trying to figure out what online degrees were offered," Johnson said. "I might not have chosen the online route if it weren't for them."
Mind-Streams partners with regionally accredited universities and helps connect users to online programs tailored to meet their needs. The company meets with people looking into online education and finds out where they've been and where they want to go — in the context of their education and profession.
The company walks students through the application process and advocates for their acceptance to a given program. Mind-Streams also walks students through the purchasing of books and filling out scholarship and financial aid applications.
Angela Kenzlow Scott, an educational consultant for Mind-Streams, said online courses were a good fit for professionals — as opposed to recent high school graduates — because in most cases, work was done when the student can fit it into their schedule.
Johnson said convenience was one of the main reasons she chose to get an online degree.
"It's much more flexible and since it's a 24/7 thing, you could work on your classes anytime," Johnson said.
Kenzlow Scott outlined a few factors to keep in mind when searching for an online program of study.
First, make sure the program is regionally accredited, which is information that can be found online at chea.org, and that it also has a positive rating from the Better Business Bureau.
Also, look at the institution's requirements for its instructors. For instance, you wouldn't want to be in a doctoral program that offered classes being taught by instructors with only a master's degree.
The amount of time given to complete each class is important, too. Kenzlow Scott said institutions should allow a minimum of eight weeks for students to be able to absorb the information they're studying.
And while most online programs allow you to work through classes at your convenience, make sure that is the case.
Kenzlow Scott, who has taught and taken classes online, said it was important to realize the difference between distance learning, which features little to no interaction with other students, and online classes that have cohorts and require discussions via various online methods.
She said being able to interact with students and the instructor could lead to a more sound educational experience.
"When you have the opportunity to have discussions between the students and teacher, the discussions are more in depth because you have time to think about your answer and you use more of your critical thinking skills," she said.
Johnson suggested those exploring online classes be especially motivated, as well.
"It's kind of like exercise: If you quit doing it, you find easy to say 'I don't know if I need to come back,'" Johnson said.
Degree programs that typically can't be found online are anything lab intensive or those that deal with fine arts, such as music and theater.
To find out if online courses would work for you, go to www.mind-streams.com.