Superintendent assesses cash balances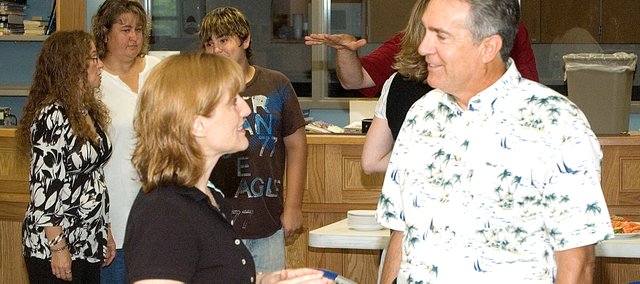 Cash balances for the Tonganoxie School District are far less today than they were three years ago, Superintendent Kyle Hayden said at Monday's school board meeting.
But, he is pleased with where they're at currently.
"I'm happy with the balances," he said. "I think our balances are pretty solid. Last year's supplemental general (balance) was too high and cost us some state funding."
The ending balance June 30, 2008 was $112,383; the ending balance June 30, 2009, is $73,668.
The overall ending unencumbered cash balance as of June 30 is $891,881. The balance at the start of the 2006-07 school year, July 1, 2006, was $1,571,619.
"We're not as rich as we once were," Hayden said. "The cash balance is almost 50 percent. We were doing pretty well and carrying a lot of cash. That's getting into philosophy, too, of building your budget and your obligations as a board and to taxpayers."
Hayden also touched on the state's budget cuts, which he said is costing the district about $150,000 in funding.
Hayden did, however, have good news about funding, as the district just received word it was awarded the Carol White Physical Education grant for $290,370 for one year.
Specifics of the grant will be known at a later date, said Tonya Phillips, federal and state programs coordinator. Hayden commended Phillips for writing the grant. TES principal Tammie George also commended TES physical education instructor Ursula Kissinger for her work getting the ball rolling for securing the grant as well.
District staying with Roberts
Roberts will be Tonganoxie School District's milk and juice supplier for 2009-10.
The school board unanimously approved the company's bid instead of A&E and Meadow Gold. Roberts had the low bid on four of the eight categories: skim, 1 percent white milk, chocolate and strawberry milks, cottage cheese, 4 oz. and 8 oz. orange juice and sour cream.
Superintendent Kyle Hayden said milk prices were down about 5 cents from the previous year and said Roberts was the overall lowest bid.
"The lowest bid is also our best product; best people to work with," Hayden said.
Hayden also stressed that milk is not a mandatory bid item each year.
He said the district can request that dairy companies "shoot you a quote," which makes it competitive. If the district has a lower price from another company than the one they are currently receiving, the district could then go to its current supplier to see whether they could match the other company's price.
Roberts and A&E both had firm bid prices, while Meadow Gold's was an escalating price, meaning prices would adjust with inflation or costs of ingredients, packaging, labor and fuel.
Hires, resignation approved
The board met in executive session for 15 minutes to discuss personnel. When members came out of executive session, they approved resignations and supplemental contracts, as well as minutes of the June 8 and June 29 meetings, bills and the treasurer's report. The board approved unanimously the resignation of LaDonna Harcar as Tonganoxie Middle School food service employee. The board also unanimously approved supplemental contracts in accordance to the newly revised supplemental salary schedule for 2009-10.
Contracts approved were: Gail Kiefer, Tonganoxie Elementary School technology support; Heather Brown, Tonganoxie High School assistant instrumental music; Danielle Thomas, THS band colorguard; Kathy Harrell, Tonganoxie Middle School history club; Cassie Donahey, TMS assistant drama; and Chris Reynolds, TMS technology support.
Insurance coverage selected
The Tonganoxie School District will carry student insurance coverage through Student Assurance Services for the 2009-10 school year.
The board approved the amount of $9,635.25 for group premium.
Appointments get nod
Various appointments, designations and rates were set at Monday's meeting.
Designations are: First State Bank and Trust of Tonganoxie, official depository; The Mirror newspaper of Tonganoxie, official newspaper; and Kansas Association of School Boards, legal council.
Appointments for 2009-10: Audra Boone, clerk; Gail Drake, deputy clerk; Tonya Phillips, treasurer; Audra Boone, KPERS representative; Kyle Hayden, suspension/expulsion hearing officer, food service program representative and authorized legal representative; Tonya Phillips, state and federal programs representative and compliance officer; and Ty Poell (TES), Mark Altman (TMS) and Brent Smith (THS), building attendance representatives.
Established rates for the upcoming school year were set as follows:
• Employee travel, meal and lodging policy. Mileage rate, 40 cents per mile and meals, maximum of $30 per day.
• Substitute teacher pay rate. Emergency/regular substitutes, $100 per day and long-term substitutes, $125 per day.
• Bond amounts, superintendent, clerk, deputy clerk and treasurer, $25,000 each, and building principals and secretaries, $10,000 each.
• Building petty cash limits, TES and TMS, each $1,000; THS, $2,000; and district office, $1,500.
The board also approved the school board meeting dates, times and location for its regular board meetings during the 2009-10 school year. Regular meetings will be held at 6 p.m. the second Monday of each month at the Tonganoxie High School west campus library.
Maintenance report
Waterless urinals are being installed at Tonganoxie Elementary School.
Maintenance director Larry Easter said waterless urinals are being installed in the fourth-grade boys bathroom at TES. He said there is a device in the urinals that eliminates odor and needs to be replaced once a year. He said he would evaluate whether they are cost effective and possibly change urinals in other bathrooms out in upcoming summers.
He said the Basehor and De Soto school districts have used updated types of urinal.
Board members voiced interest in learning more about how the equipment worked.
"I'm going to have to look this up," board member Kay Smith said.
Easter also discussed working with Trane on the energy efficiency project throughout the campus. He said district employees have worked well with Trane employees and noted the update lighting has provided a noticeable change.
"Lighting in the gymnasiums is absolutely phenomenal," Easter said.
TES principal Tammie George mentioned improvements in her building.
"We can turn off half the lights and it's brighter than it used to be," she said.
Hayden then quipped, "We'll have a very tan staff."
Board member Kris Grinter told Easter of complaints she had heard from patrons regarding handicapped parking at TES and the terrain next to the curb in those spaces not being ideal. Easter said he would look into the situation and report back.
In other business, the board:
• listened to technology director David Milhon report that a redesign of the school district's Web site, www.tong464.org, would be rolling out soon. He expected it to be ready before the next regular meeting in August. Board member Kay Smith praised Milhon for what's he accomplished since coming to the district two years ago.
"Where we have come in the last two years is phenomenal," Smith said.
• elected Kay Smith as president for the 2009-10 school year, while Diane Truesdell was named vice president. Truesdell had been president for 2008-09, while Leana Leslie was vice president.