League champs: Post 41 rallies for title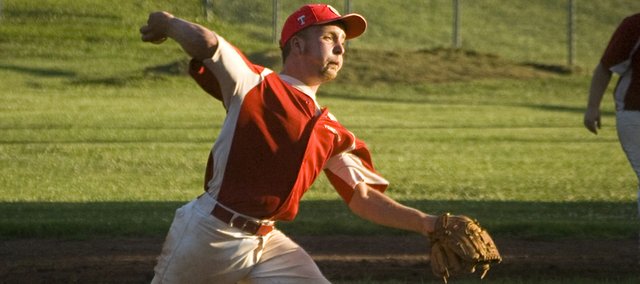 Leavenworth — Down a run with two outs and a runner on third in the bottom of the seventh, Tonganoxie's Post 41 baseball team strung together three straight singles to win a 9-8 thriller against Easton in the Post 23 League final on Tuesday.
After being retired in his previous three at bats — fanned in the fourth and sixth innings — Corey Klinkenburg found the resolve to knock the game-winning single to right field, ending Easton's reign as defending league champs.
Watching the final inning materialize in the dugout, Klinkenburg saw Post 41's first three batters reach base and started to wonder: "Is this really gonna come up to me?"
It did. And he delivered. Klinkenburg fought off a pitch, sending it to the opposite field.
As Easton's right fielder, unable to catch the ball on the fly, fielded the ball and cocked his arm, Klinkenburg touched first base and immediately turned to watch Kyle Newton head home from second.
The throw bounced first off the ground, then off the Outlaws' catcher as Newton slid in and swiped the plate.
"That was a good feeling," said Klinkenburg, who went 2-for-5 with a double and a pair of RBI.
If Klinkenburg was the hero in Post 41's championship victory, Newton certainly was the MVP. The righty cranked hit after hit for Tonganoxie, going 5-for-5 with three RBI and two runs.
After the game, Newton admitted he thought he was toast before he scored the game-winning run. But that made the simple act of touching the plate even more rewarding.
"It was amazing — the best feeling I've ever had," Newton said.
Trailing, 8-6, after Easton plated three runs in the top of the seventh, Tonganoxie (18-8) ignited its rally with a pair of walks. Both Jeremy Wagner and Mark Stewart reached with a base on balls before Jacob Stauch came through with an RBI-single to center field, cutting the deficit to one.
Stauch then advanced to second, putting two runners in scoring position with no outs. However, Stewart was picked off at third when he took a generous lead and Ryan Stockman struck out, putting added pressure on Newton.
But with two down, Newton singled to left to score Stauch and kickstart Post 41's second comeback of the night.
Easton didn't trail in the game until the sixth inning, when Tonganoxie scored twice to take a slim, 6-5 lead. Newton led off the inning with an infield single up the third-base line. He later reached second on a wild pitch and hustled from there to home on a two-out grounder from Blaize Oelschlaeger that would have ended the inning had Easton's shortstop not bobbled the ball and thrown it away.
Grant Ebbert drove in the go-ahead run with a bloop of an RBI-double down the left-field line. Oelschlaeger took off from first and displayed the aggressive baserunning that got Tonganoxie in trouble more than once against Easton. However, his speed and instincts proved perfect as Oelschlaeger touched home for the third time in the championship game.
Oelschlaeger, who threw all seven innings and struck out five in the final, said each action in the tight game was nearly overwhelming.
"Everything is more crucial — every play, every at bat, every swing," he said.
The team's ability to fight back, Oelschlaeger added, was the difference.
"Nobody lost focus," he said. "If we had lost focus, it would have been a long night, but we wanted this."
The players and coaches alike had some extra incentive for the win — a loss in the double-elimination tourney would have meant a rematch with Easton on Wednesday, the day before Post 41's Zone tournament begins at Leavenworth. Now Tonganoxie has a day off before returning to the diamond and competing for a state-tournament berth.
All nine Post 41 players had at least one hit against Easton. Brett Bailes was 2-for-5 with a run, Jeremy Wagner went 1-for-3 with an RBI, Stewart finished 2-for-3 and drove in a run and Ryan Stockman, who singled and scored in the second inning, was 1-for-4.
Tonganoxie will play Geiger in its Zone tournament opener on Thursday at 8 p.m. The Lansing Cubs will face Atchison in the game before that at the Sportsfield. First pitch is scheduled for 6 p.m.