Never too old to run: 70-year-old Brawner keeps racing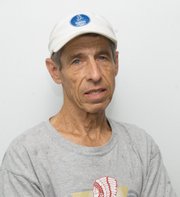 To call Wally Brawner a master of running wouldn't be much of a stretch — it might even be an understatement.
The 70-year-old Tonganoxie man has been wearing out the soles of his sneakers on roads, tracks and trails for decades now. Brawner, a member of the Mid-America Running Association, competes locally year-round and this summer returned to a national meet that had been an old favorite of his.
On July 9 and 10, Brawner was back at the USA Masters Outdoor Track & Field Championships. He hadn't competed at the national USATF meet since 2005 in Honolulu, but Brawner didn't look like he had missed a step at the 2009 championships in Osh Kosh, Wis.
To start with, Brawner placed third among 70-74-year-olds in the 5,000-meter race, finishing in 23:08.91. The next day, he won the 2,000-meter steeplechase.
Running the course and clearing barriers in 10:00.77 to win was nice but Brawner also got the opportunity to finish ahead of an old rival, Joe Cordero of Long Island, N.Y., who had consistently bested Brawner in masters steeplechases since they both entered the 60-plus range.
"The poor sucker wore himself out and he's got bad knees," Brawner said of his foe, who placed fifth. "I felt bad he did so poorly but I'm glad I won."
Although Brawner was sympathetic toward his competitor, one year his senior, he said it was good to come out on top.
"I always wanted some revenge but under these conditions … I guess that I'll still accept it," Brawner quipped.
The steeplechase victory was definitely the highlight of the meet for the local runner. He even looked back fondly on a last-lap misstep. About 150 yards from the finish line, Brawner misjudged his final obstacle and found himself face-down in the pool. Not that he was embarrassed. Brawner coughed up 22 bucks for a DVD of the race, hoping to have the classic memory for his personal video library to no avail.
The 5K and the steeplechase were the only events in which he competed at Osh Kosh — "That was enough for two days," Brawner said — but that didn't stop him from hustling back home so he could compete in another race two days later.
July 12, he was in Independence, Mo., bounding through a 5K race in a cave called, "Run to the Sun" — one of 18 races in MARA's yearlong grand prix, which awards points to runners in different age groups. Brawner won the 70-74 division, finishing the unique trek in 22:41.1.
"There aren't too many other 70-year-olds around here that run well enough," he joked of his victory.
Next up for the Goodland native and retired K.C. Washington High educator are the Summer National Senior Games in San Francisco in August. The games feature everything from cycling, to badminton, to water polo, but there is no steeplechase so Brawner will run the 5,000 and 1,500.
He hand-picked those events because he figures those are his best chances for success.
"You'd like to get a medal for all that work you're going through," Brawner said.
Not that he'd cherish the prize. Instead, he'd likely toss the hardware in a drawer and head outside to run some more.