Area communities gearing up for annual fairs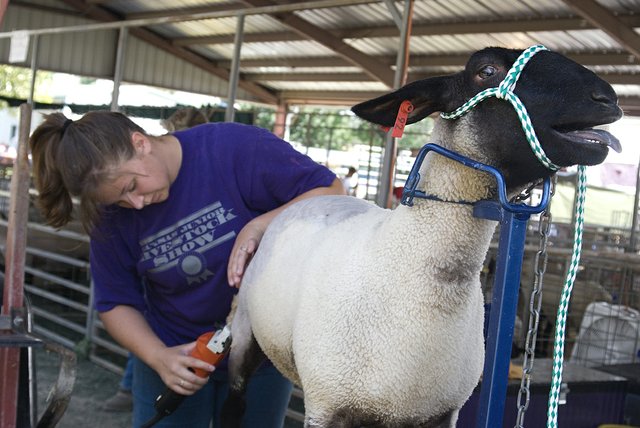 It's time to gear up for funnel cakes, corndogs and plenty of other fair fare throughout the area.
If it's summer, it's fair time in northeast Kansas.
To go with all that food, there are exhibits, rodeos, animals and more to check out during the annual summer events.
Wanting to hit all of the local fairs? Here's a guide to fairs in the area:
Shawnee County Fair
July 18-19, July 23-26
www.shawneecountyfair.org
The Shawnee County Fair kicked off with horse shows July 18 and July 19, but the main portion of this year's fair begins Thursday with sheep and goat shows, as well as a bake sale, swing band entertainment and the announcement of this year's 4-H king and queen. King's miniature pony rides will be available Thursday-Saturday. Miniature trains, meanwhile, will be on display Thursday-Sunday. Other highlights include a rodeo, Bart Plasterson Gang western re-enactment and a free concert Friday, tractor pulls Saturday and Sunday and a youth rodeo Saturday.
The fair is held at the Kansas Expocentre in Topeka.
Douglas County Fair
July 25-Aug. 8
dgcountyfair.com
The 4-H horticulture judging contest was the first activity for the Douglas County Fair on July 10. More 4-H activities get started Saturday, but the fair really kicks into gear Aug. 5. The public can view exhibits in 4-H buildings from 10 a.m.-10 p.m., Aug. 5-8 at the Douglas County Fairgrounds, 2110 Harper St. in Lawrence. Musical groups Blue Orleans, Sellout, Sierra Band and Rural Route 4 are scheduled to perform.
Fairgoers can check out rides and games as Moore's Greater Shows carnival will be operate 6-11 p.m. Aug. 5-7 and 1-5 p.m. and 6-11 p.m. Aug. 8. A petting zoo and pony rides will be offered those days as well.
Other events of interest: 4-H activities daily, square dance exhibition and antique tractor pull Aug. 6, bale throwing contest and demolition derby Aug. 7, turtle races and tractor pulls Aug. 8.
Wyandotte County Fair
July 28-31
wycofair.com
The Wyandotte County Fair formerly was held at its fairgrounds in Kansas City, Kan., but the land was sold to make room for the Schlitterbahn Waterpark.
Because a permanent location hasn't been finalized, this year's fair will be held at the Leavenworth County Fairgrounds in Tonganoxie. It will be a 4-H livestock/exhibit event that will allow Wyandotte County 4-H'ers to qualify for the Kansas State Fair.
Johnson County Fair
Aug. 3-8
jocokansasfair.com
This year's theme is Dancing with the Steers and with it come various steer-themed contests and games at the Johnson County Fairgrounds, 136 E. Washington St. in Gardner.
The Johnson County 4-H Rodeo Queen and Princess coronation will be at 6:45 p.m. Aug. 3, with the open youth rodeo to follow.
A stick horse race, egg gathering and more are part of Family Fun Night, starting at 6 p.m., Aug. 4. After those activities, mutton busting, a greased pig contest and calf scramble will start at 8 p.m.
Other events: best pie contest and the bull blast and barrel racing Aug. 7, and a parade, demolition derby and chainsaw art auction Aug. 8.
Leavenworth County Fair
Aug. 11-15
leavenworthcountyfair.com
The 83rd annual Leavenworth County Fair opens Aug. 11 at the fairgrounds, 22618 McLouth Rd. in Tonganoxie. The annual Leavenworth County Fair Parade through downtown Tonganoxie highlights activities on the first day, as well as a draft horse pull.
On Aug. 12, a talent show and rodeo are the main events, while the rodeo again is featured Aug. 13, as is a free concert, courtesy of Annie's Country Jubilee.
Senior citizens can take in activities geared especially toward them from 10 a.m.-1 p.m. Aug. 14. A 4-H livestock auction is set for 6:30 p.m., Stompers 4x4 Mud Run at 7:15 p.m. and an Artie Johnson free concert at 8 p.m.
On the final day of the fair, Aug. 15, turtle races start at 1 p.m., kids tractor pull begins at 2 p.m., and both a youth dance and demolition derby will be held in the evening, each starting at 6:30 p.m.
A carnival will run from 6-10 p.m. nightly, with a discounted armband night one evening (yet to be determined).
And, of course, many 4-H exhibits and activities will be featured throughout the fair.
Jefferson County Fair
Aug. 2-6
Valley Falls is home to the Jefferson County Fair. The theme for the 61st annual parade: Today's Youth Tomorrow's Future. It will start at 7 p.m. on Mary Street in Valley Falls.
The Lions Club will have bingo in the evening Aug. 5 and 6. Entertainment Dance Company will perform at 6 p.m., Aug. 5 and a dance by Dr. Tunes will run from 8:30-11:30 p.m., Aug. 6. For more information, call (800) 896-3198.
Vinland Fair
Aug. 13-15
The 102nd Vinland Fair is at the Vinland Fairgrounds northeast of Baldwin City. It is among the longest running fairs in the state. There is no carnival, only family fun and homemade food galore, including pie that's to die for. Events: a talent show on Aug. 13, tractor pull Aug. 14 and many events on Aug. 15, such as the pet parade, homemade ice cream contest and — yes — the watermelon seed spitting contest.