Budget could see 2-mill increase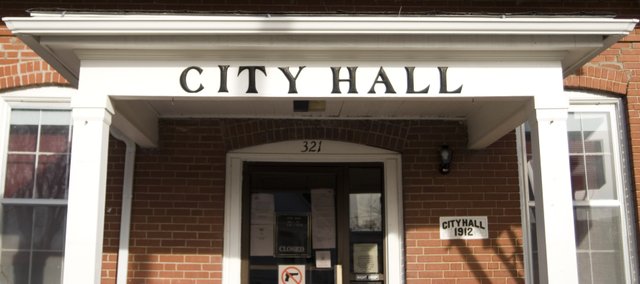 It was a dark and stormy Monday night; the sound of thunder washed over the Tonganoxie City Council chambers as city leaders discussed one of their more feared topics … raising taxes.
With the city looking at around $1 million in revenue shortfalls, plus a lower than average valuation assessment, the possibility of an increase of more than 2 mills could be likely.
"The impacts of a national recession is trickling down to Tonganoxie," Mike Yanez, city administrator, told the council. "Just as every local government, county government, state government and national government is impacted by a loss of revenue due to a downturn in economic activity, Tonganoxie is also greatly impacted."
The night started with $99,600 written on a white board. This represented the 2.76 mill increase the city would be looking at if it adopted the budget as proposed. During a four-hour budget hearing, the council and department heads worked through the budget and managed to whittle away $18,358 of it to decrease the tax rate to 2.25 mills.
A mill is $1 in taxes for every $1,000 in assessed valuation.
To get to the new rate, a number of items were taken out and a couple of revenue sources for the city augmented.
Budget cuts
• The city will not hire any new employees this year, including a new police officer and firefighter who were scheduled to be hired in 2009. This means that the city will also not hire a full-time economic development director, which could have carried a salary and operating budget of $80,000.
• Fireworks are out. While many people enjoyed the fireworks display that capped the events of Tonganoxie Days, they'll just have to make do without next year.
• The public works department will have one less person for extra summer help. This will save $5,900.
• City staff will go without a cost of living adjustment to their pay, but will retain a 2.5 percent merit increase.
• Eight street projects were named during the meeting, but only five survived. Seventh and Sixth street dead-end rebuilds, Church Street improvements and Shawnee Street roadwork did not make the cut. The Safe Routes to School sidewalks, Pleasant Street bridge replacement, Fourth Street Phase III and intersection improvements for County Road 1, which have other monies allocated to them, will be completed.
Budget reductions
• Yanez said each department reduced its budget to at least provide the same amount of service as it did in 2009 and then some.
• The city's holiday spirit will be cut off three months earlier as the city will now turn off the tree lights downtown Jan. 2 instead of waiting until March, thus saving $1,000.
• Because there is no new development in the city, the council will reduce the engineer salary line-item for the Tonganoxie Planning Commission from $8,000 to $5,500.
Revenue increases
• Pool rates may see an increase in 2010. The Tonganoxie Water Park has been a hit with the residents, but with more patrons comes higher cost and with higher cost will come a rate increase for the 2010 pool season. The cost of swim lessons will also go up for next year.
• The Tonganoxie City Council will also consider increased fines for those who violate the city codes, such as grass codes and leash laws.
• The city will raise the amount of money needed for a fireworks permit from $100 up to $200.
• Lease amount for 52 acres of land from $1,584 to $2,600.
• A suggested 15-percent increase to $5.04 for the second and subsequent 1,000 gallons of water.
• A suggested 5-percent increase to wastewater charges from $11.80 to $12.39 with an increase from $3.42 to $3.62 for every additional 1,000 gallons of water.
Unknown
• There is about $15,000 in the budget for donations and contributions to city organizations and membership dues for the city. The money could go to organizations such as the Tonganoxie Chamber of Commerce, the Leavenworth County Development Corporation, the Kansas Sampler Festival and the Mid America Regional Council.
• East Street improvements from Fourth to Seventh streets might still be on the table. The Kansas Department of Transportation has committed to pay 80 percent of the cost to replace the Pleasant Street Bridge in 2010. This means that the city may choose to build an emergency vehicle access road and bridge on East Street for around $500,000. The East Street bridge will be built to city standards to allow for improvements on East Street in the future. Butch Rodgers, city superintendent, said the emergency road might be needed during the three months it takes to rebuild the bridge on Pleasant Street. "Remember when we had (Pleasant Street) shut down for a week?" Rodgers asked the council. "All hell broke loose."
Kathy Bard, assistant city administrator, said the proposed 35.97 mill for 2010 will mean an additional $25.88 per year in property taxes on a $100,000 home. The 2009 mill levy was 33.72.
The Tonganoxie City Council will have to approve publication of the budget before July 29 and another public budget hearing will be held Aug. 10.