Drug store to open downtown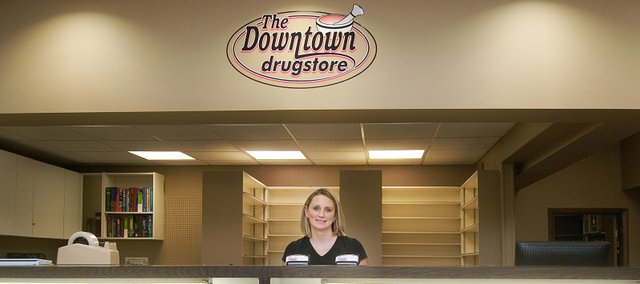 Get ready, Tonganoxie, red crème soda is returning to the downtown area.
The popular fountain drink will be sold again, this time at the Downtown Drug Store.
Pharmacist Sarah Breuer, along with her husband, Scott, is opening the pharmacy in the former Holst Pharmacy, where she worked for seven years — four as a student at Kansas University and three as a pharmacist. When Holst Pharmacy moved to its U.S. Highway 24-40 location this past November, Breuer accompanied the staff to the new site.
But that downtown spot was hard to beat.
"I just missed the atmosphere of downtown Tonganoxie and really liked being down here and the people who would stop in down here," she said. "I just kind of miss that."
Candy and related snacks, as well as candles, cards and other typical pharmacy items can be found at the store. And, of course, Breuer said, red crème soda, which alongside a few other soft drink offerings was available when Holst Pharmacy was downtown, and will be available again at Downtown Drug Store.
As for renovations, the original brick on the front of the building has returned and some alterations have been done inside.
A new feature will be Tonganoxie High School Booster Club memorabilia being sold at the drug store.
"T-shirts, sweatshirts and jackets, hats," Breuer said. "Pretty much the whole selection you can get at sporting events."
All proceeds from the sales will go to the booster club, Breuer said.
Getting the store ready to open is "taking a little longer than expected," but preparations are going well, Breuer said.
"We're hoping for the week of the 27th, but I want to make sure I can accept all the insurance plans," she said.
The store will be open 9 a.m.-6 p.m., Mondays through Fridays and 9 a.m.-1 p.m. on Saturdays. The drug store's phone number is (913) 369-3800.