Friends surprise business owners with refurbished 'appliance'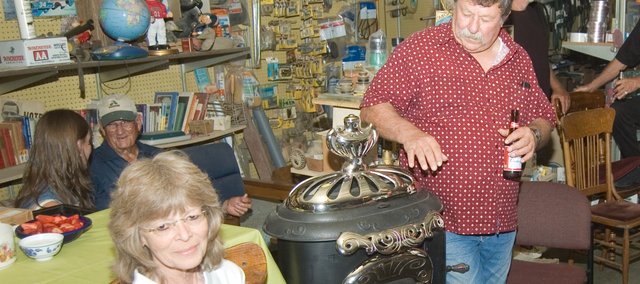 Roger and Phyllis Shilling were preparing to gather Thursday with friends for a warm meal at a restaurant. Instead, they received a warm reception and a surprise gift that will keep them comfortable in the winter months.
Around 20 friends met the Shillings, who own Shilling Electric in downtown Tonganoxie, at their store. A few of those friends asked Roger and Phyllis to meet at the store and then they would decide where to eat.
However, the friends had other plans. They brought food and beverages and stayed at the store.
Moments later, friends brought out an object covered with a sheet.
With the Shillings having no inkling as to what was hidden underneath, friends unveiled the surprise — a refurbished century-old Great Western wood stove. The Shillings currently had a wood stove at the store, but their friends pooled money to purchase another one.
"I was speechless and out of my element," Roger Shilling said. "I didn't know what the heck was going on."
Phyllis called the gesture "unbelievable" and said she appreciated all of the people who came to the gathering. They are customers, some of whom gather at the store in the mornings for coffee to talk about anything and everything.
"A lot of times, there's a lot of hot air in here that we don't need a stove," Phyllis said with a laugh.
The stove's journey
The antique stove came from Tonganoxie resident Wally Brawner, but needed a great deal of work to be fully operational.
"He had it," said Kerry Holton, who was involved in the process of getting the stove to the Shillings. "It was a corpse."
Holton eventually connected with Steve Hund Jr. of Paxico, who owns Mill Creek Antiques. He made the trip from Paxico for Thursday's gathering.
Hund, who has been involved in buying, selling and restoring wood stoves for 38 years, said it took about a week's worth of work to complete the restoration project. He said it required considerable work, and it appeared coal was burned in the stove, which causes more wear and tear because coal burns hotter than wood. He also contacted Great Western in Leavenworth for specific replacement parts for the stove. The manufacturing firm, according to Hund, hadn't built wood stoves since 1936.
Regardless, the parts were cast and Hund was able to bring the stove back to its original state. He said restorations could be quite the tasks.
"Challenging? Yeah, but I like that part of it," Hund said.
Holton said it was an amazing site seeing the stove with all its shiny new nickel pieces.
"This is beautiful," Holton said. "And then to see the before, a work of art."
The stove actually was being stored in the back portion of the shop, but Roger didn't notice it being there. In fact, he had seen the stove in its pre-refurbished state and had commented that it was beyond repair.
Little did he know it eventually would be in his store.
"I'm not into restorations, but that ol' boy did one heck of a job," Roger said, referring to Hund's work. "I think it's going to be quite the attractive appliance. I'm excited."
Warming the building
Shilling Electric currently has a Ram-Forge wood stove at the store that warms the sales floor area of the building. There's also a gas-fired Reznor unit heater that is used on occasion.
The Ram has been utilized for about 20 years, Phyllis said, and has served its owners well in the winter months.
"You wouldn't ever start sweating in here," Phyllis said. "But this is comfortable."
Phyllis said the stove would be placed where the current one is positioned and that stove likely will be utilized in the back portion of the store, Roger noted.
He joked that he had a great deal of firewood to use — "I've got 300 acres of wood," he said — and preferred using that type of heating as his primary source as opposed to others.
"I'm not conservative, I'm frugal," Roger said with a smile.
When the stove is fired up for the first time as cold weather returns in a few months, Roger said he would have Brawner be the first person to put wood in the stove and start it up.
"He said it would be an honor and a privilege," Roger said. "He has a standing order to fire up the first fire."