Post 41 survives Zone opener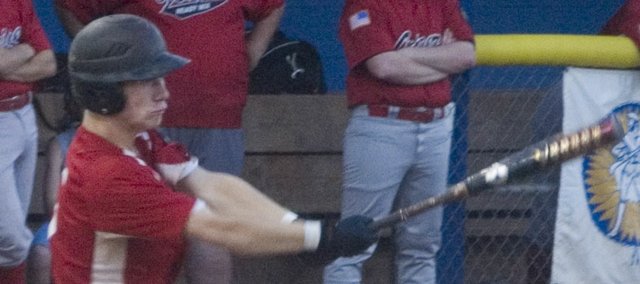 Leavenworth — With a 15-13 victory over Geiger in its Zone tournament on Thursday night, Tonganoxie's Post 41 baseball team is a win away from securing a berth in the state tournament.
Only four teams are in the state-qualifying event and if Tonganoxie finishes in the top two of the double-elimination tourney, it will earn a trip to the state tournament in Pittsburg.
The win didn't come easy at Leavenworth Sportsfield but a six-run eighth propelled Post 41 to a Friday evening showdown with Atchison.
Post 41 put together an incredible two-out rally in the top of the eighth, when the club trailed Geiger, 10-9.
Jeremy Wagner got things started with an infield single. After Mark Stewart drew a walk, Jacob Stauch drove in two runs with a double to left-center field. Stauch later scored thanks to an infield error, and after Kyle Newton walked, Brett Bailes plated two with a triple to center field. Bailes went on to score on another costly error for Geiger.
Bailes finished the night 3-for-4 at the plate, scored four times, drove in three runs and had a double.
Blaize Oelschlaeger went 3-for-5, Wagner was 3-for-6 and Stauch finished 2-for-5 with three RBI.