Free Delivery
Library takes books to homebound residents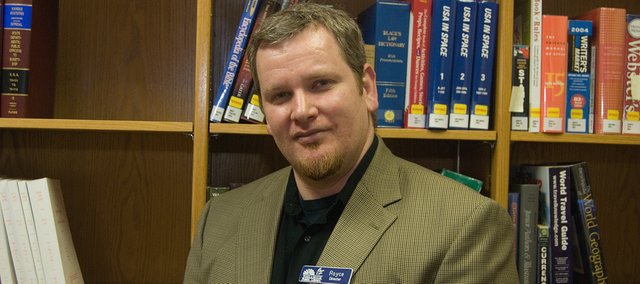 Q: What is the Books on Wheels program?
A: The library realizes that not everyone who is in need of library services is able to make it to the library. The goal of Books on Wheels is to make sure that everyone in town who wants a book can have one delivered to them. This free service offers home delivery of books in large print or regular print, music CDs, DVD and VHS movies, or recorded books on cassette or CD. Visits are made on a rotating basis to homes and retirement communities to deliver requested materials.
Q: Who is qualified for the program?
A: This free homebound service is available to Tonganoxie residents of any age who for whatever reason are not physically able to come to the library.
Q: How can someone sign up for the Books on Wheels?
A: Stop by the library, call us at (913) 845-3281, or send someone on your behalf to pick up the sign-up sheet.
Q: How does the patron request the materials they want?
A: On the back of the sign-up form is a selection of various styles and formats of books. Each time we deliver books we include an evaluation for the book so that we can tailor our service to the needs of the library user.
Q: How did the Books on Wheels get started and was it successful?
A: We have started off gradually and are currently delivering to about eight people with the help of one of our fabulous volunteers. This is certainly the type of program where the numbers aren't as important as the fact that we are helping to make the library a public service that everyone can use and enjoy. We encourage everyone who knows someone in need of this service to contact the library. We have volunteers who have specifically signed up to deliver books for this program. The thing I enjoy most about living in Tonganoxie is how people step up to the plate when it comes to helping others.