Summer party sneak peek
B&B owners offer glimpse of future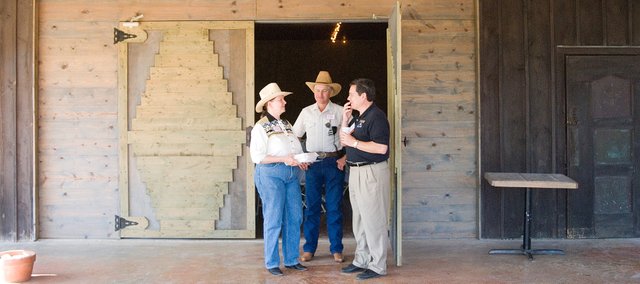 Before the Myers House Hotel, formerly the Amanna elan bed and breakfast, officially opens for business in October, its new owners Jack and Mary Cronemeyer and Kay Soetaert wanted to give people a sneak peak at what's in store for Tonganoxie.
On Thursday, the Cronemeyers played host to a Tonganoxie Chamber of Commerce summer party at their Circle S Ranch and Country Inn in rural Lawrence.
"They are great community citizens and hard workers," Blake Waters, the chamber's president, said. "They get it done in Tonganoxie."
The party was also held partially to celebrate the West End Café, another Cronemeyer project, joining the chamber. Not only did Jack and Mary use the time to show chamber members and area residents what their 1,200-acre ranch has to offer — a 12-room bed and breakfast, herd of longhorn and bison, as well as a 3,000 square foot party barn — but to also announce some of their plans for their newest Tonganoxie acquisition.
Mary said they are currently working on expanding the rooms and bathrooms at the new hotel, which will retain the original name of the historic site.
"It's pretty close to being ready now," she said Thursday. "We have a party in September during homecoming weekend when the hall will be open, but we hope to be completely open by October."
The Cronemeyers want to be able to use their Tonganoxie bed and breakfast as a place to hold smaller weddings and smaller corporate gatherings.
Mary said the Circle S Ranch is more suited for large events and companies, such as the drugmaker Bayer and Quaker Oats, as well as holding wedding receptions with an average of more than 200 guests.
Jack said he also hopes the smaller and more centrally located Meyer house might give more area businesses a place to meet for conferences and other events.
"All of those bankers in Tonganoxie get lost as soon as they hit the city limits," he joked.
The Cronemeyers plan to use the West End Café's food at the Meyer's House Hotel, but they will be adding a sweet surprise to the menu.
Ice cream will be available, and if he can swing it, Jack hopes to get the doughnut recipes from the now closed Joe's Bakery in Lawrence and have hot doughnuts twice a day, in the morning and in the evening.
"You'll get two chances a day to gain 40 pounds a week," Jack said.