Downtown again open to through traffic after vehicle crashes into longstanding building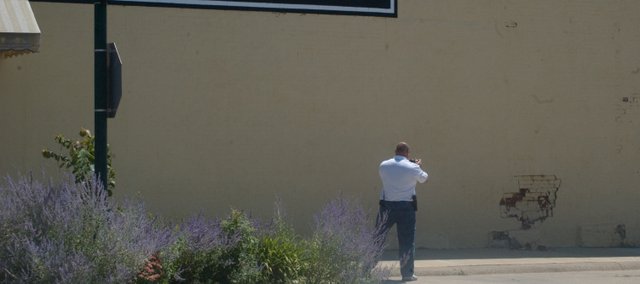 A vehicle struck the side of Evans Real Estate on Friday in downtown Tonganoxie, causing damage to the west side of the building.
Police and fire officials had to close off an area of downtown for precautionary reasons.
According to Tonganoxie police Lt. Billy Adcox, the accident happened at about 11:50 a.m.
The driver, Brenda K. Dillon, 53, Kansas City, Kan., told police she was putting her truck in park, but stepped on the gas instead of the brake pedal and drove into the building.
Adcox said she was cited for inattentive driving and leaving the scene of an accident.
The woman initially left the scene, but later returned, Adcox said.
Dillon's vehicle hit the Evans Real Estate building on the west side, just south of Fourth and Bury streets.
JW Evans, who was inside Evans Real Estate when the accident occurred, said he was walking down the hallway to his office in the building when the vehicle made contact, taking out some bricks in the process.
"It sounded like a bomb went off," Evans said.
Fire and police officials blocked off much of the downtown area as a precaution. Dave Bennett, Tonganoxie fire chief, said utility officials and a structural engineer were called in to assess the situation and make sure the building was structurally safe.
Evans said gas lines in the building run near where the vehicle crashed into the long-standing structure.
The roads were blocked off because the vibrations of large vehicles could cause further damage to the side of the building, which has a crack running from the area of impact to the top of the wall.
"It could have nothing to do with vibrations, but we don't want cars going by," Bennett said, noting if the structure were to collapse, brick could fall into the street. "I think it will be all right, but this is just precautionary."
The downtown area was opened back up to through traffic around 3 p.m., Adcox said.
The building is more than 120 years old, Evans said.