4x400 = State champs
Tonganoxie relay team wins title for absent teammate Stone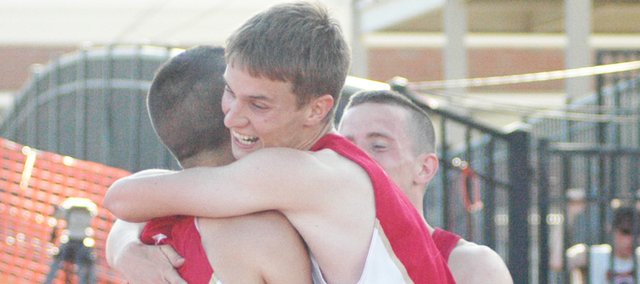 Photo Gallery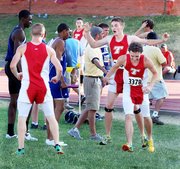 Tonganoxie golden in 4x400 relay
The Tonganoxie High boys 4x400 relay team of Jeremy Carlisle, David Powell, Bret Koch and DJ Lindsay won the 2009 Class 4A state championship on Saturday at Cessna Stadium in Wichita. Their time of 3:23.5 set a new school record and beat second-place Atchison by 0.44 seconds.
Wichita — It didn't happen the way they envisioned it, but the boys of Tonganoxie High's 4x400 relay team realized a long established goal on Saturday by blazing to a state championship.
Long before they won a league title or qualified for state, the Chieftains talked of a first-place finish at state.
It was their goal and it seemed attainable after placing fourth in Class 4A in 2008. With all four members returning in 2009, Jeremy Carlisle, Austin Stone, Bret Koch and DJ Lindsay expected to crush the THS record they set last year and hang gold medals around their necks at Cessna Stadium.
Those intentions nearly disappeared before the season started when a routine dental visit ended up leaving Stone in a near comatose state.
"Honestly," Carlisle said, "I didn't really think it was a realistic goal when we lost Stone."
With their senior leader gone for the season, once overflowing confidence waned. Senior David Powell was chosen to run as Stone's alternate and, initially, things weren't quite the same. Picking up on the runners' uncertainty, Chieftains assistant coach Bill Shaw reassured them.
"He was the only one besides the four of us that believed that we were gonna win state," Koch said.
As the season wore on, the team's times got better. When the runners competed in their prelim on Friday, they broke the school record by three seconds.
All of the sudden, the swagger was back.
The runners' determination was never more evident than on Saturday in the finals. Carlisle, Powell, Koch and Lindsay shed more than a second off their still fresh record to win the school's first relay state championship in 3:23.5.
"It was awesome crossing that finish line first," Lindsay said. "It was an unreal feeling."
Although Lindsay was in third place with roughly 105 meters to go, he was exactly where he wanted to be. The day before, Atchison anchor runner Andre Harris had passed the THS junior down the stretch of the prelim. Lindsay figured if he stayed right behind Harris most of the lap during the final, he could outrun him the last 100 meters.
He figured right. With Carlisle, Powell and Koch cheering him on, Lindsay bounced outside, passing Baldwin and Atchison to win the race by 0.44 seconds.
"I went with my game plan and it helped," Lindsay said. "I don't think he saw me coming and I kind of snuck up on him."
The Chieftains said Stone was their motivation for winning the state title. Prior to the race, as they sat in the stadium's infield, Carlisle gave the team a last-second reminder.
"Everyone else is running for themselves," he said. "We have something to run for here — we're running for Stone."
Although Powell was out of state and unable to join them, Carlisle, Koch and Lindsay went to visit Stone in a Nebraska rehabilitation center a week before state. Seeing him look so much better — sitting up in a wheelchair, some weight gained back, color in his skin — was inspiring. Koch said they brought Stone a baton they had signed and gave it to him.
"He just put a death grip on the baton," Koch recalled.
It made an immeasurable impact.
"We can't dedicate that race to anyone but Austin," Koch said.
As far as the runners are concerned, Stone is still on the team. They got approval from their coaches to put Stone's name on the record board next to their new time. The baton they used for their state championship is going to be retired and the names of all the runners — including Stone's — will be engraved on it.
A return visit with Stone is planned for later this month. When his teammates see him, they will give him one of the "Team Stone" T-shirts they wore at state and a gold medal.
After all, they feel they couldn't have done it without him.
"We all left it on the track," Carlisle said. "It was probably one of the best feelings I've ever had and knowing we did it for something more than just us is awesome too."
Powell said it was "incredible" to win the state championship for Stone, adding it was the least he could do while running as his alternate.
"I know if he had been there with them," Powell said, "then they definitely would have won."