Chieftains nab 9 medals at state track meet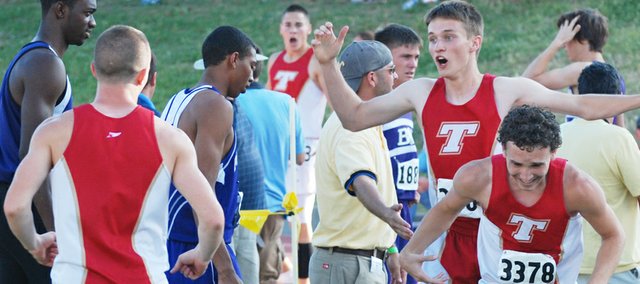 Photo Gallery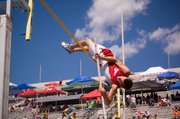 Chieftains win 9 state track and field medals
Tonganoxie High athletes grabbed nine state medals this past weekend in Class 4A competition at Cessna Stadium in Wichita.
Wichita — By the time the Tonganoxie High boys 4x400 relay team of Jeremy Carlisle, David Powell, Bret Koch and DJ Lindsay won a gold medal on Saturday at the state track and field championships, THS athletes had won nine medals.
The state title capped a great day for Tonganoxie at Cessna Stadium. The first-place gold was the Chieftains' sixth medal of the day after THS brought home three on Friday.
Tonganoxie senior Roni Grizzle started the medal count on Day 1 when she finished second in the girls shot put for the second year in a row.
Grizzle also competed in the discus, where she finished 12th, but her younger sister Domino Grizzle won her first state medal in that event. Domino, a sophomore, set a personal record with a throw of 119-9 to place fifth.
The Grizzles weren't the only Chieftains to medal on the first day of competition. Sophomore Jake Willis finished fourth in the pole vault by tying a school record with a mark of 13-6.
Saturday morning, Roni Grizzle and fellow senior Chrissie Jeannin finished third and fifth, respectively, in the girls javelin to ignite an exciting day for THS.
Later, the boys 4x100 relay team of Koch, Willis, Carlisle and Lindsay finished seventh.
Before teaming up again for a state championship and a school record in the 4x400, Lindsay placed fourth in the 200-meter dash and Carlisle finished seventh in the 400-meter dash.
A few local athletes also competed on Friday but left state emptyhanded.
Senior Austin Smith came close to a medal, but finished tied for eighth in the boys high jump. THS sophomore Dylan Scates was 12th in the triple jump.
McLouth High senior Kasey Campbell finished 13th in the Class 3A girls pole vault.
The Concordia girls won their fifth straight Class 4A state championship with 83 team points. The Chieftains finished tied for 10th with 20 points.
Paola won the Class 4A boys state title with 66 points. Tonganoxie was tied for 12th with 20.
Tonganoxie High state track results
Friday
Girls
Shot put — 2. Roni Grizzle, 41-1.25
Discus — 5. Domino Grizzle, 119-9; 12. Roni Grizzle, 106-9
Boys
Triple jump — 12. Dylan Scates, 40-8.75
Pole vault — 4. Jake Willis, 13-6
4x100 prelims — 4. Bret Koch, Jake Willis, Jeremy Carlisle, DJ Lindsay, 44.17
200 prelims — 2. DJ Lindsay, 22.36
4x400 prelims —3. Jeremy Carlisle, David Powell, Bret Koch, DJ Lindsay, 3:24.77
High jump — tie-8. Austin Smith, THS, 6-0
Saturday
Girls
Javelin — 3. Roni Grizzle, 144-10; 5. Chrissie Jeannin, 130-8
Boys
4x100 — 7. Bret Koch, Jake Willis, Jeremy Carlisle, DJ Lindsay, 44.73
800 — 7. Jeremy Carlisle, 1:58.27
200 — 4. DJ Lindsay, 22.84
4x400 — 1. Jeremy Carlisle, David Powell, Bret Koch, DJ Lindsay, 3:23.5
McLouth High state track results
Pole vault —13. Kasey Campbell, MHS, 8-0