Grizzle surprises in state discus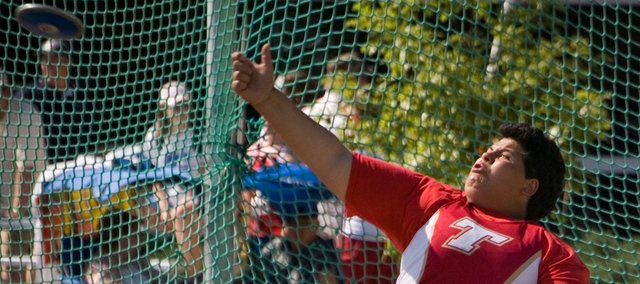 Wichita — As a sophomore competing at state for the first time, Tonganoxie High discus thrower Domino Grizzle wasn't one of the favorites to capture a medal.
Considering Grizzle had just set a new personal mark in the discus at regional competition a week earlier with a throw of 112 feet, 10 inches — ninth best among Class 4A state qualifiers — she was projected to finish in the middle of the pack Friday at Cessna Stadium.
The Chieftains sophomore surprised herself when she set a new personal record of 115-4 in the first flight and erased that mark on her final throw in the finals with an even better sling of 119-9, which secured her fifth place at state.
"Practice has been working hard and being consistent, but, yeah, I was surprised when I heard that 115," Grizzle said. "Then, when I threw that 119, I was real excited."
Grizzle finished seven places ahead of her sister, THS senior Roni Grizzle, who was visibly upset when she didn't make the finals. Domino consoled Roni and talked with her briefly before winning her first state medal.
"She wants me to be the best I can and she pushes me all the time," Domino said of Roni. "I can only appreciate that. A major part of how I did today was her."
Having two older sisters — Roni and Roxi — who have had great success as THS throwers (Roni has won two silver medals in the shot put and Roxi won two state titles in javelin), Domino said at times it had felt like she was competing in their shadows.
"But then they push me, they know what to do, too," Domino said. "Their advice helps as much as anybody else's."
Still, there was some pride for the sophomore when she finished ahead of her senior sister in the discus. Domino said it felt good to come in as the underdog and win a state medal.
"I can't even explain it," she said. "I wasn't really expecting anything big today."