No. 2 not a bad spot for Grizzle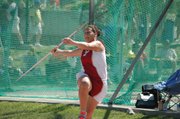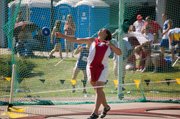 Wichita — For the second year in a row, Tonganoxie High thrower Roni Grizzle found herself standing at the No. 2 podium next to Ottawa's Kearsten Peoples when Class 4A state shot put medals were handed out Friday at Cessna Stadium.
On her third throw of the day, Peoples broke an 11-year-old state meet record in the shot put with a throw of 46 feet, 3 inches to clinch her second straight championship in the event.
"She's so good she makes me better," Grizzle, a THS senior, said of Peoples. "Most of the time my game plan is to come in and win and when she throws, I'm like, 'All right, let's win second.' I feel like I won kind of."
The two have been going at it for the past three years. Grizzle's throw of 41-1.25 was only good enough for second at state but Grizzle beat Peoples in a shot put event when the OHS thrower was a freshman and the pair has maintained a positive relationship.
"We didn't really hold it against each other," Peoples said of exchanging victories. "We just help each other and try to get better."
Grizzle said she always talks with Peoples when they are at the same meet and the two make a point to encourage one another. Peoples said she feels like Grizzle is always there to help her.
Because of their friendly connection, Grizzle said she felt pretty good about being runner-up in the shot put the last two years.
State, Grizzle added, seemed like a "normal meet" because she didn't feel much pressure, being familiar with all of her opponents at Wichita.
"But it's like a pretty big deal to be second in the state in 4A," she admitted.
Although Grizzle finished 12th in discus competition on Friday, she bounced back Saturday morning with a third-place medal in the javelin.