THS

golfer caps freshman year with state medal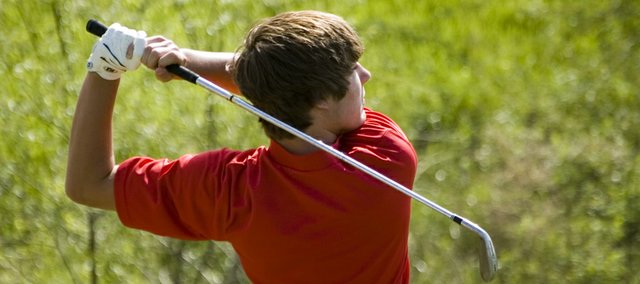 When Tonganoxie High freshman Colby Yates found out that the top 20 golfers at state received medals, he knew what his goal would be on May 26 at his first Class 4A championship tournament.
"That's what I was going for was just to finish in the top 20," said Yates, the Chieftains' lone representative at Prairie Trails Country Club in El Dorado.
He did just that. Yates shot a 78 at state and finished 14th.
After winning four tournaments during his freshman season, including a Kaw Valley League championship, Yates said the state tournament featured the best field he had ever seen.
"Everybody out there was just as good or better than me," he said.
Playing in such a competitive environment made Yates nervous at first. His first shot of the day sailed out of bounds.
Having played two practice rounds at Prairie Trails, Yates was aiming for a specific tree on his opening drive but it went right, off the course. Remarkably, Yates recovered and began playing like he normally does to finish the par-five first with a bogey after using an iron on his second tee shot, laying up, hitting his approach within 7 feet of the cup and draining his first state putt.
"If I hadn't done that, it wouldn't have been that great of a day," Yates said.
Avoiding disaster proved to boost his confidence. Yates was solid in the tee box the rest of the way.
"I felt really comfortable over the ball and I didn't really hit any bad ones after that," he said.
THS coach Jared Jackson noted that Yates' 78 was close to a top-five finish (the top four scores were 67, 74, 75 and 76).
"Colby was solid all day off the tee and if a few more putts would have went, he had a chance at top five," Jackson said. "He was only three strokes from third."
Yates said he missed three or four "makeable" putts and bogeyed the last two holes after starting in the middle of the fairway.
"That was more disappointing than missing short putts," he said.
With his freshman year behind him, Yates plans to play in a number of tournaments this summer and is looking forward to his sophomore season, when he hopes to return to state and finish in the top five.
"Once I do that, maybe my junior or senior year I'll be able to win it," Yates said, noting his success this year led him to think those goals are attainable.
Wellington's Miles Miller won the individual championship with a 67. Andover won the 2009 Class 4A team title.