Willis ties
THS

pole vault record at state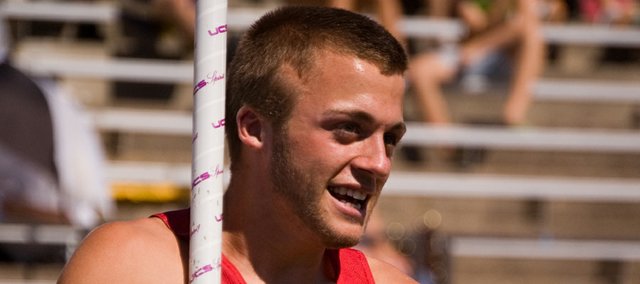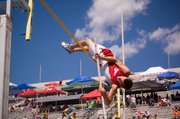 Wichita — It took the biggest stage, the state track and field meet, but Tonganoxie High sophomore Jake Willis finally reached the goal that had alluded him all season.
He had finished first in the pole vault a few times this year but it wasn't until Friday at Cessna Stadium that he reached a new height — 13 feet, 6 inches — and tied a THS record.
"Score," Willis yelled as he left the mat with a new personal record that earned him a fourth-place medal at state.
"That's what I wanted. I'm pretty psyched about it," Willis said of the record. "I've been fighting all season. The chance to get it at the final meet really means a lot."
Willis just about set the THS bar even higher on his next attempt, nearly completing a 14-foot vault.
"I almost double impressed myself and got the 14. Almost — just barely missed it, just an inch," Willis said. "Next year I should have it easily."
That is because he plans to keep working on the craft that he initially found undesirable — "At first I never wanted to do pole vaulting," he said, "and then I ended up having a knack for it."
As a freshman, Willis qualified for state but, unable to clear the first height, did not place. He just kept practicing, attended a pole vault camp last year and increased his skill set.
"This summer I'm going to a lot more camps and hopefully I can increase my PR (personal record) by another foot and a half like I did this year," Willis said.
Competing against the best vaulters at state, the Chieftains sophomore said, got him hyped and brought his game to a higher level. He entered state eighth in Class 4A but left as No. 4.
"I was thinking that I had a very small, outside chance of getting sixth," Willis said of his expectations. "Coming in at fourth place means a lot. I'm proud of myself. I've put a lot of effort into it."