Intersection project moving forward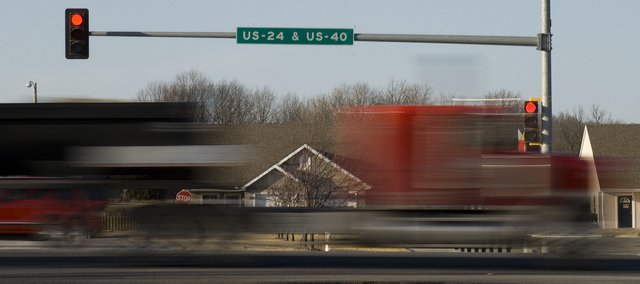 By the beginning of the next school year, the intersection at U.S. Highway 24-40 and Main Street is going to be a lot different.
On Monday night the Tonganoxie City Council unanimously voted to accepted a bid from King's Construction Company for $648,072.95 to complete the project.
The bids went as high as $978,247.43 from J.M. Fahey Construction for the project, which was recently estimated at $794,833. The new intersection will include a new traffic signal, as well as construction of new turning lanes on both sides of Main Street. The Kansas Department of Transportation, which has pledged $600,000 for the project, will also include right-lane deceleration lanes at the intersection, as well as a new right turn lane at Laming Road.
The bid was accepted on contingency that KDOT also approves the bids.
Tonganoxie Mayor Mike Vestal said he was glad to see the bids came in much lower than the original estimate of the project, which was more than $900,000.
"Its great to be saving money, but we need to be saving money," Vestal said at the meeting.
Although the traffic light will be moved from its current location at US 24-40 and Northstar Drive, the city will retain a pedestrian signal at that intersection. As part of the stimulus money from the American Recovery and Reinvestment Act, KDOT also pledged $23,8000 for the new $33,300 pedestrian signal.
Kathy Bard, assistant city administrator, also said crews from Westar Energy Inc., and AT&T have been working on relocating utilities at the intersection. She said utility relocation is on schedule.
The council also discussed the possibility of continuing the improvements on Main Street north of the intersection. Full improvements of that street could cost more than $300,000, while just milling and overlaying the road could cost around $80,000.
Bard said Butch Rodgers, city superintendent, would be bringing more details on the street improvements to a future council meeting.