Lawrence prepares for downtown Harley invasion
Group also plans to visit Moon Marble Co.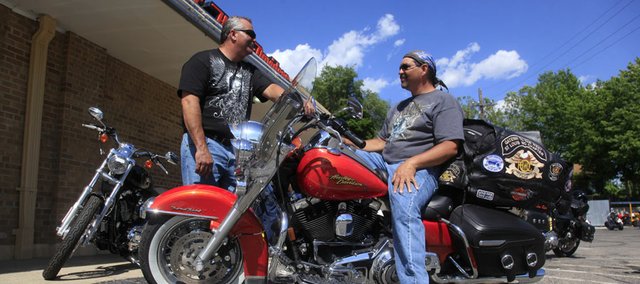 See the bikes
The Kansas Harley Owners Group 2009 rally will culminate with a parade at 4 p.m. Saturday.
The parade will start from the parking lot of the I-70 Business Center in North Lawrence, go over the Kansas River Bridge and travel down Massachusetts Street to South Park.
The parade is expected to feature 500 to 700 Harley-Davidson motorcycles.
"It will be something to see," said Elliot Funk, a sales manager at Lawrence's Riverfront Harley-Davidson. "There's no such thing as a stock Harley. Nobody buys them off the showroom floor and leaves them that way. You set them up as a personal reflection of yourself."
Lawrence, get ready for a little horsepower harmony.
You know, it's that low, throaty rumble that will make an unsuspecting pedestrian jump. It's the pop, pop, pop from a chrome pipe that shines like a mirror. It's the background noise of "Easy Rider," Steppenwolf and small roadside bars the country over.
Yeah, it is the unmistakable sound of a Harley-Davidson, and this week Lawrence will be treated to a full-blown symphony.
From Thursday through Saturday, Lawrence will play host to 500 to 700 Harley-Davidson riders as part of the Kansas Harley Owners Group 2009 rally.
"We're coming," said Mark Marcellus, the coordinator for this year's rally.
But don't worry. These aren't the old days.
"We laugh a lot about the used-to-be reputations," said Marcellus, who puts about 10,000 miles a year on his Harley from his Liberal home. "A long time ago, you got a bike to go visit the bars. These days, we have a lot of meetings that end up at ice cream shops. We realized we like ice cream."
Marbles, not mayhem
These days, Harley-Davidson couldn't be more mainstream. Lawrence's Harley dealership in North Lawrence sells cycles, but it also sells a variety of merchandise — everything from jeans to jackets, pool balls to pewter — to people who don't have a bike but want a piece of the culture.
"I can't say that it has become a yuppie thing," said Herman Morris, who has been on top of bikes for the past 44 years. "But it's damn close."
Somewhere along the way, Harleys ceased to be a license to be a bad — well, let's say apple — but instead became more of a Zen thing.
"I think for most folks it is about the solitude," Morris said. "When you are on a bike, it is time to think and reflect about what is going on or the lack of what's going on."
That's not to say that a Harley still isn't a good calling card. Most Harley riders say they can't fill up their tank without having someone come by to say hello.
"People just accept you when you're on a bike," said Lawrence Harley rider Pat Drake. "Even people you've never seen before. You ride into a group as a stranger, and you ride out as part of the crowd."
And in the new world of Harley-Davidson — well, it's new if you haven't been paying attention — the rides can be to almost anywhere. At this weekend's Lawrence rally, one of the more popular riding destinations is expected to be to Bonner Springs to visit the Moon Marble Co. to see how marbles are made.
Now that's a whole new definition of an Easy Rider.
'Motorcycle Alley'
Several Lawrence businesses are loving the new motorcycle movement. North Lawrence, in particular, is becoming a hub of activity with three major biker attractions along North Second and Third streets: Riverfront Harley-Davidson, Combs Custom Cycle, and Slow Ride, a biker bar and grill.
"It's Motorcycle Alley" Lori Combs of Combs Custom Cycle said of North Lawrence's main drag. "That's what we call it now."
Thus far, the economic downturn hasn't killed the momentum the businesses began to build on over the last few years.
"In economic times like these, it is important to a lot of people to be able to go home and go to their motorcycles, have a release," Combs said. "They'll do anything to keep them."
This week, Lawrence motels and merchants are expected to be the beneficiary of such loyalty.
"You can't find a hotel this weekend in town," said Anne Buhler Dillon, conventions marketing manager for the Lawrence Conventions and Visitors Bureau. "It is as full as it can get."
Dillon said the rally is expected to generate the equivalent of 900 room nights for local hotels. At an average rate of about $90 per night, that's a direct infusion of more than $80,000 into the local economy.
And Dillon said that doesn't count the gas, the shopping or the drinks that the Harley riders will consume while in town.
Or all that ice cream.