Tongie Office Supply opens for business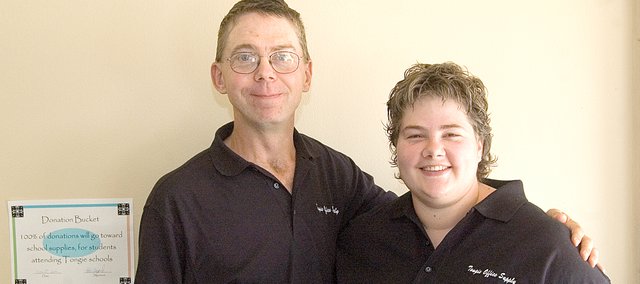 Robin Wiegand was helping her aunt at her home-based business when the business' printer ran out of ink. Unfortunately, the closest place to get office supplies in a pinch was Bonner Springs.
That situation triggered Wiegand's interest in fulfilling that need for office products in Tonganoxie.
Roughly a week ago, that service became a reality, as Wiegand and her husband, Doug, opened Tongie Office Supply at 620 E. Fourth St.
On Monday, the Tonganoxie Chamber of Commerce held a ribbon cutting ceremony for Wiegand's business.
Wiegand said she's been "extremely grateful" for the number of clients who are purchasing office products from her.
She said most of her business is coming from Tonganoxie, but she is looking to branch out to McLouth for more clients as she said there is a need for an office product supplier there also.
Inside the store, an array of office and school supplies are on the shelves, but other products can be ordered as well.
"Just because it's not on the shelves doesn't mean I can't get it," Wiegand said.
The store also is collecting money for youths to purchase school supplies. She said all proceeds would go to children of families that can't afford school supplies.
"It will go strictly to supplies to give to them," she said.
Born in Seneca, Wiegand said she has lived various places and has been back in this area for about six months.
The store is open 9 a.m.-6 p.m., Mondays through Fridays. The business' phone number is (913) 417-7377 and e-mail address is tongieofficesupply@yahoo.com.