Chieftains hit
USM

for team contact camp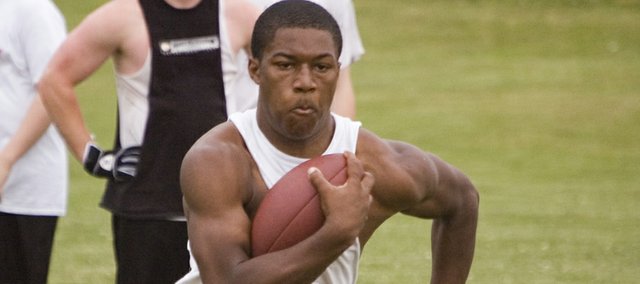 After going through five straight mornings of drills and plays with no pads or helmets at Tonganoxie High football camp June 1-5, the Chieftains finally put on full gear and got to hit somebody for two days of contact camp on Friday and Saturday.
THS was one of eight squads to attend a team camp at the University of St. Mary in Leavenworth. There, the Chieftains got a chance to take what they learned at camp and use it against opponents in live, game-like situations.
Although a long-ago scheduled trip to the West Coast prevented THS head football coach Mark Elston from joining the Chieftains at USM, he said Friday morning the players should benefit greatly from the team camp because they would be facing real defenses and offenses — unlike THS camp.
"Going against bags, it's hard to get a real vision because those bags don't move and don't hit quite as well as defensive ends and defensive linemen," Elston said. "This weekend will be good for them to put it all into play."
The rest of the Tonganoxie football coaching staff traveled to the camp to work with the players. Although no full scrimmages were held as Tonganoxie competed against Leavenworth, Basehor-Linwood, Van Horn (Mo.), Cass Midway (Mo.), Immaculata, McLouth and Christ Prep, the Chieftains battled those teams in nearly every situation imaginable during the two-day camp — from third-and-long to first-and-goal.
THS defensive coordinator Matt Bond said a goal-line competition was the highlight of the weekend. One school got the ball on the two-yard-line and another had one play to stop the offense from scoring; the winner stayed on the field.
"That was actually one of the neatest parts of it because it was all the teams together and it got pretty competitive," Bond said.
THS had a successful offensive run in the game, scoring three straight times, each one coming against a different team.
"Of course, everyone's yelling and screaming, wanting a piece of us, wanting to challenge us," Bond said.
Basehor-Linwood then took the field and THS ran a wedge play that quarterback Jeremy Carlisle just barely got across the goal line. Naturally, the Chieftains thoroughly enjoyed beating their rivals in the intense drill.
From a coaching perspective, Bond said the camp gave the THS staff a great opportunity to evaluate this year's roster long before Tonganoxie plays its opener Sept. 4 at Prairie View.
"It just helps the coaches from the standpoint of kind of evaluating and getting to see kids in their individual positions — what works and what doesn't," he said.
Assessing those things in June, Bond added, was a great advantage because no players currently are locked in to specific positions.
So what did he learn about the 2009 Chieftains this past weekend?
"We'll be quick," Bond said. "We'll have a little bit of speed. We're going to try to use that to our advantage defensively and offensively."