Let's go camping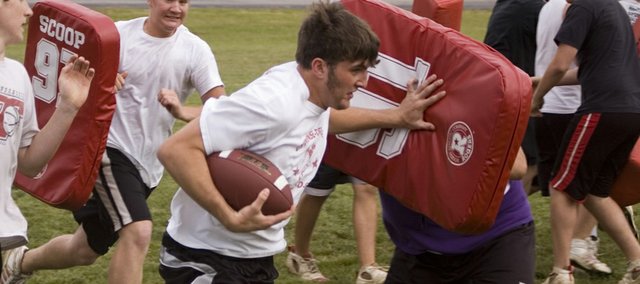 Photo Gallery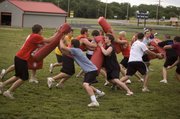 2009 Tonganoxie High footbal camp
Summer football camp came earlier than usual for Tonganoxie High this year. The Chieftains ran through drills and plays on both sides of the ball June 1-5 in preparation for a two-day contact camp at University of St. Mary in Leavenworth held June 5 and 6.
The 2009 football season doesn't begin for nearly three months, but with Tonganoxie High football camp behind them, the Chieftains are excited about what lies a few calendar pages ahead.
Coach Mark Elston and his staff used the mornings of June 1-5 to add some new plays, introduce new terminology, install new blocking schemes and get the players acclimated to it all.
"We just worked primarily on what we're going to concentrate on throughout the season," Elston said.
Players and coaches had "chalk talks" since early spring about what they were going to learn but Elston said that was no substitute for running through things at camp.
"Once you get out on the field and see it, it's a little bit different than just drawing it up on the chalkboard," he said.
One of the biggest changes made at camp involved adding a word to the play calling that identifies blocking assignments. Elston said even the coaches needed to get used to that.
"That's new for us, calling out blocking schemes," he said, "but it allows us to do some different things in the backfield and get some different guys the ball that need to touch the ball."
Running back Jeremie Maus said the players didn't have much trouble learning the fresh nuances.
"We've been picking it up pretty easy," the senior-to-be said. "There's a couple things that it takes a couple reps to get used to but other than that, we're picking it up."
THS receiver Justin Jacobs was impressed with interior play at camp.
"Definitely our line and our blocking schemes are getting a lot better," said Jacobs, a rising senior.
One of those Chieftains linemen, senior-to-be Richie Ridihalgh, said five straight days of reps helped Tonganoxie's line get comfortable.
"We're going over a lot of plays and we're getting them done and we're learning them," he said.
Recognition, he added, came quickly with plenty of upperclassmen manning the interior.
"Most of us know the plays already but we've been getting to go over the new blocking schemes," Ridihalgh said. "That helps a lot too."
Quarterback Jeremy Carlisle said the team's rapid adjustment to new things was made possible by the players' energy and focus each morning.
"Overall, it's been a pretty great week because we're just coming out here and having fun and even though it's 7:30 in the morning, we're all working our butts off," Carlisle said.
Ridihalgh said the entire roster came to camp with enthusiasm.
"Everybody's just really ready to play," he said.
With all the players on the same page, defensive end EJ Field predicted this season will be successful for THS.
"I think that we're going to have a lot better team than we had for the last couple of years," Field said. "Everybody's been doing all their jobs, everybody's been getting it right and I haven't seen many people messing up."
A rising senior, Field added he was impressed with Tonganoxie's ability to inflict harm on the defense.
"Our offense has done a lot better and I've watched the line a lot and they've been hitting the right holes and doing what they need to do," Field said, "and we've been moving the ball."