Neighbors: Kaitlyn Saathoff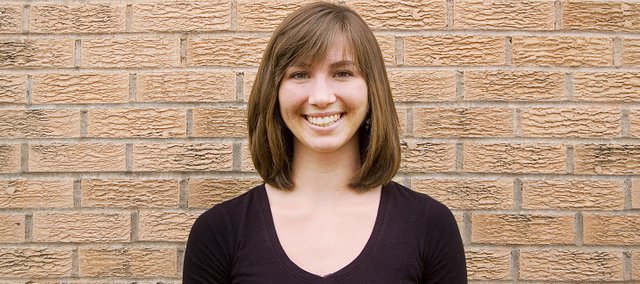 Occupation: Sophomore at Kansas State University, where she is studying secondary education, specializing in math.
Family: Mother Missy, father Mike, sister Hilary, brother Matthew.
Place of birth: Denver.
Q: When did you move to Tonganoxie, and what brought you here?
A: We moved here in 1994 from Lawrence. I don't remember the month or day.
Q: What's the biggest risk you've ever taken?
A: I decided to go to (Kostroma) Russia on a mission trip. My mother was worried because of how dangerous Russia was; I found out quickly how dangerous it could be. I stuck very close to my translator.
Q: What's the best piece of advice you've ever been given?
A: "It is better to take refuge in the Lord than to trust in man," from Psalm 118:8. I got this from a Bible study leader. I like the verse and now I have it on a Post-it note.
Q: What three things would you want people to know about you?
A: 1: I am a driven person. 2: I am on the rowing team at K-State. 3: I love to watch "I Love Lucy."
Q: What did you want to be when you grew up?
A: I wanted to be a model or in fashion merchandising. Then I wanted to be an accountant. I've switched it up quite a bit.
Q: What's your ideal vacation spot?
A: Anywhere exotic. I wouldn't mind traveling anywhere. I want to go backpacking in Europe, I would like to go back to Russia or go down to the Caribbean.
Favorite things
Song: "My Wish" by Rascal Flatts.
Color: Orange.
Food: Mashed potatoes, any way I can get them. Just put butter or white gravy on them.