Rising hoops freshmen get program intro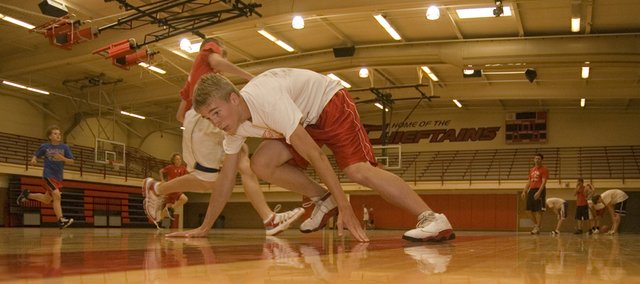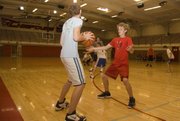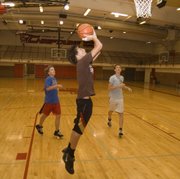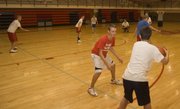 You're not in middle school anymore.
That was one of many lessons 14 aspiring Tonganoxie High basketball players learned this past week at THS freshman camp.
The campers spent two hours every afternoon from June 1-5 acclimating themselves to a more intense brand of basketball and finding out what the Chieftains coaches expect from them.
During Friday's session, Tonganoxie coach Shawn Phillips and freshman coach Doug Sandburg had plenty of chances to tutor the freshmen-to-be and start molding them into high school players.
As the campers ran through a man-to-man press-breaker, Phillips, wanting higher energy and effort, had to get after them. The coach prompted them to play like they were excited to be there and the youngsters responded with greater zest.
Later, while practicing half-court offense, Phillips explained that a guarded 14-foot jumper — or any contested shot outside of 10 feet — was terrible.
"Don't just chuck it, to chuck it," he told them.
To hammer home the point, the coach let Conner Kietzmann know the open 17-footer he missed was a good shot — "That one, I'm OK with," Phillips said.
The head coach also harped on pushing the tempo, telling the players to sprint for fast-break chances. Kietzmann and Matt Saathoff had to feel pretty good when they hooked up for a transition basket.
"Looks like Carlisle to Schaffer," Phillips said, alluding to returning varsity players Jeremy Carlisle and Keaton Schaffer.
In the post, Sandburg told the bigs they could only dribble once and not take their time for moves. The coach then praised Justin Stockman for following suit.
At the camp's conclusion, Phillips said although many of the players had learned some of the THS program in middle school, the camp gave them a larger base of knowledge with which to work once practice starts in November.
"They'll be familiar, so they'll learn more quickly on some things and it just speeds up the process," Phillips said.
Additionally, Sandburg said, the incoming freshmen needed to be introduced to the intensity of the high school game.
"They've got to get a new understanding of what program expectations are and we're setting those standards high for them," the THS freshman coach said.
After working together and improving all week, Tyler Hall said Friday was the best day for him and his fellow campers.
"We all knew what we were talking about and we knew what we were running, and we all had more effort," Hall said.
Kietzmann said the biggest improvements at camp came on offense because there were more players to work with than at individual summer workouts.
"We all got better on that because not everybody comes to individuals or can make it," Kietzmann said, "so a lot more people showed up for this."
Offensive strides aside, Phillips said he wants the players to be able to run through offensive sets naturally. Of course, the rising freshmen have a lot to learn about making back-cuts, using screens and many other fundamentals as well.
"We'll adjust a lot of those things in individual workouts with them this summer," Phillips said, "where hopefully that will become second nature to them and they can just play and not have to think about it."
So, after that five-day hoops course, do the campers feel like freshmen?
"No not really," Kietzmann said. "Not yet. School hasn't started yet."
Attending THS freshman camp were: Seth Ahart, Garrett Elston, Luke Faherty, Tyler Hall, Conner Kietzmann, John Lean, Brett Morey, Mark Murphy, Ben Reilly, Matt Saathoff, Brett Shelton, Justin Stockman, Zack Tallent and Tyler Zinser.