Dog's best friend
County opens new Humane Society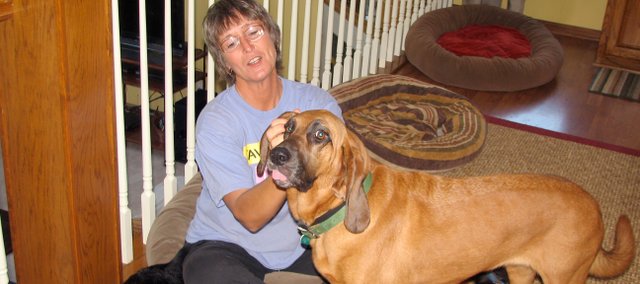 Q: June 6 was the first meeting of the Leavenworth County Humane Society. How did it go?
A: It was very successful. We had quite a few people come out, and we got about eight volunteers that day, so we're happy with the response so far.
Q: Where is the humane society located, and how many people work there?
A: Since we are just starting out, we don't have a facility yet. The "office" is currently split between my husband's man-cave – where I use the computer – and my study, where the phone is. We have three directors – Nancy Gibson, Carol Turner and myself – and the rest will be volunteers. The animals will be fostered by our volunteers until we can find them a permanent home and until we have a facility. And I will continue to take in animals from time to time. We'd like to eventually have a building more central to the county than Leavenworth, so probably in the Basehor or Tonganoxie area.
Q: Why did you decide to start this organization?
A: Our vision is building a community where all animals are treated humanely, and every pet has a loving forever home. Leavenworth County, with a population of nearly 75,000 citizens, and a land area of 463 square miles, currently has no animal shelter that serves the entire county. LCHS wants to build one, centrally located, involving people from throughout the county, so that our homeless animals have a safe and loving place to be until we can find them homes. Leavenworth Animal Control is the only licensed shelter in the county, but their mission is to serve the city of Leavenworth. They work very hard to return animals to owners, adopt animals to good homes, or send them to appropriate rescue, but it's unrealistic to think that they can serve the entire county. They are nearly always at capacity, and the staffing and facility aren't designed to support the whole county.
Q: How many pets do you have yourself?
A: We have four rescue dogs, three from Leavenworth Animal Control, one that we took to keep him from going to a shelter at Christmas of all things. We also have three rescue cats, one from Leavenworth Animal Control, one from Safe Harbor for Pets and one that my husband found half-frozen on the side of the road.
Q: What do you have planned for the humane society in the near future?
A: Our first spay/neuter event will be in July. We're working with No More Homeless Pets, KC to do a transport from Linwood to provide low cost spay/neuter and vaccinations. NMHPKC will pick up the animals, take them to their facility, fix them, keep them overnight for recovery and bring them back the next morning. Great deal. We will also have another board meeting at the end of this month and another membership meeting soon after that.