Second generation ignites old family
BBQ

tradition
Photo Gallery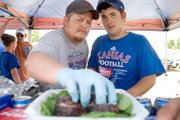 2009 McLouth BBQ Blowout
There were 46 teams competing at the McLouth BBQ contest Saturday.
For the Petrie family of McLouth, barbecue isn't just a hobby, it's a family tradition.
On Saturday, Mike, Gene and Bill Petrie passed the tongs over to their sons Tallon, 17, Trevor, 17, and Tyler, 21, to take over the Stringtown BBQ team started by the elder Petries 18 years ago.
"We've heard some of the crazy stories of what happened on the team and we wanted to try it for ourselves," Tyler said as he wore a team T-shirt that read "Stringtown BBQ 2nd Generation."
The young Petries revived the team after a decade-long break. Their fathers stopped competing to focus more time on raising their kids.
Stringtown BBQ, along with 45 other barbecue teams, heated up their smokers to compete in the 18th annual McLouth BBQ Blowout. The competition is the Northeast Kansas State BBQ Championship, which is sanctioned by the Kansas City Barbecue Society.
Each team spent some time Friday night and all Saturday morning preparing for the six different categories: Sauce, sausage, chicken, ribs, pork and beef brisket.
There were 42 judges grading each team's dish based on a scale of one to nine with nine being the highest. The judges scored on the appearance, taste and tenderness of each team's entry. There were six judges certified by the KCBS.
Doug Walbridge, a member of the McLouth BBQ Blowout committee, has been a part of the competition since the beginning. He said although he had a lot of fun being a judge for 15 years, it wasn't as easy as people might think.
"You can eat up to 6 pounds of meat as a judge … and I've eaten it before, back in my younger days," Walbridge said.
He stopped judging about three years ago because of some health problems, but Walbridge still likes to taste samples from the different teams.
This year's top winner of $1,000 and a trophy were Rubbin-it-and-lovin-it BBQ, a team made up of Kerk Farthing, Shawnee, and Chris Theis, Lee's Summit, Mo. The two men, along with Theis' son Luke, compete in about 18 events a year. This was the team's third year in existence and the fourth time they've ever been grand champions at a barbecue competition. They also were the 2008 McLouth BBQ Blowout grand champions.
Theis said, unlike some teams, they start the morning of the event and cook everything hot and fast.
Farthing said it also helps that they are slowly perfecting their techniques for the different entries.
"Last year I said we finally learned how to cook pork," Farthing said. "This year we were having trouble cooking brisket, but we got over that hump and figured it out."
The men said they would be back next year to try and win for a third year in a row.
As for the young Petries, they were happy with being able to win the people's choice award, which came with a trophy.
Gene Petrie said the boys learned a lot this weekend and it showed in their food.
"Their first barbecue actually tasted better than our first barbecue," he said.
The Petries said they also will be back next year.