Vendors lining up for Tonganoxie Days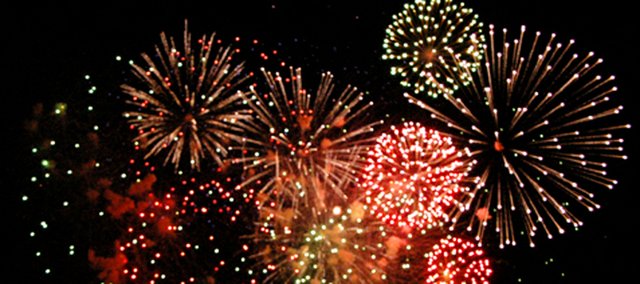 The vendors are coming, the vendors are coming.
Saturday marks the 24th anniversary of Tonganoxie Days, and with it come several activities throughout the community.
But at the heart of the festival are vendors, selling crafts, food and more in downtown Tonganoxie.
Connie Torneden, chairperson for the annual festival, said there are about 105 vendors who will be setting up shop Saturday on Fourth Street.
She said there would be nearly four blocks full of vendors, an improvement from last year.
Handmade items and various foods, such as kettle corn, will be for sale and commercial vendors also will be on hand.
"There's a balloon art person this year," Torneden said. "That's something a little different. It's just a pretty good variety I'd say."
Vendors will be selling downtown from 9 a.m. to 4 p.m. with a slew of musical entertainment also planned for the downtown district.
Allan McFarlane, the roving minstrel, will be downtown during that time. At 9 a.m., Dennis Rogers, who has toured with the musical group Blackhawk, will perform Native American music and dance. Performing at 10 a.m. will be country music singer Jami Amber Lynne, with solo guitarist Dennis Dlabal set to begin his show at 11 a.m.
Continuing the musical entertainment at noon is Piercing the Darkness Tour, a gospel music group. At 1:15 p.m., dancers from Graves Talent in Tonganoxie will perform. And at 2:30 p.m., Mike Warehime, solo country singer and songwriter will be the final performer at Tonganoxie Days.
Festivities for Tonganoxie Days actually kick off Friday with competitors for the Leavenworth County State Championship Barbecue Cook-off setting up at the Leavenworth County Fairgrounds.
Saturday, though, is when the rest of the activities take place.
Here are other events planned for Saturday in Tonganoxie:
• 7:30 a.m. to 9 a.m., Friends of the Library 10K/5K Run and Fun Walk. Begins at Tonganoxie Public Library, Third and Bury streets.
• 9 a.m. to 4 p.m., car, truck and tractor show at VFW Park, 910 E. First St.
• 9 a.m. to 4 p.m., quilt show and other activities at Tonganoxie Community Historic Site, 201 W. Washington St.
• 9 a.m. to 4 p.m., Kansas Miniature Horse Club Fun Show at the Leavenworth County Fairgrounds, 405 W. Fourth St.
• Noon, Team Tongie picnic and silent auction at Tonganoxie High School's Chieftain Remembrance Walk, 404 E. U.S. Highway 24-40, 910 E. First St. Tonganoxie High School graduate Danni Boatwright Wiegmann, who won "Survivor: Guatemala," will be available for autographs, as will her husband, Casey Wiegmann, a former Kansas City Chief lineman who now plays football for the Denver Broncos. Some of the items for the silent auction include: a basketball signed by the 2008-09 Kansas University men's basketball team and coach Bill Self, a football signed by the 2008 KU football team and coach Mark Mangino, and other signed items. Additional auction items will be available for bidding, such as tickets to Kansas City T-Bones and Kansas City Wizards games. Proceeds will benefit Team Tongie, which was established earlier this year as a way to raise funds that go toward helping people with incidental expenses that may arise from medical emergencies.
• Noon, Flag Day rifle salute at VFW Park.
• Noon, barbecue judging begins for barbecue cook-off at the fairgrounds.
• 7 p.m., Bingo Night at Sacred Heart Parish Center. Food will be served starting at 5:45 p.m.
• 9 p.m. Fireworks at Chieftain Park.
Torneden said she'll "keep her fingers crossed" that the weather will cooperate Saturday in Tonganoxie, and she looks for large crowds for this year's festivities.
"We just want people to come out and spend a nice day close to home and just enjoy everything everybody has to offer," she said.
For more information, log on at tonganoxiedays.com.