Campers look up to Chieftain wrestlers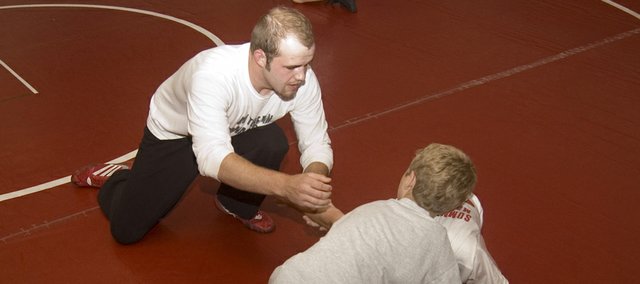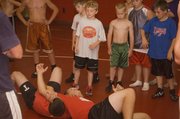 As much fun as the 22 young wrestlers were having, learning new techniques and playing games each morning June 8-10 at Tonganoxie High, three hours can be a long time to hold a camper's attention.
That's why THS coach Jeremy Goebel enlisted the help of a handful of current and former Chieftain wrestlers for the Tongie Kids Wrestling Camp of Champs.
Goebel said the campers, ranging in age from pre-kindergarten to eighth grade, were excited to hear from THS wrestlers in the school's wrestling room because it let them put voices and interaction with the names and faces they might know.
"Most of those kids (THS wrestlers) are on a poster in there or on a banner, or they've watched them at a wrestling meet," Goebel said of the campers' heroes.
The coach also said it was important for THS wrestlers such as Caleb Himpel, Justin Crotty and Jeremie Maus to have a leadership role.
"It just kind of goes with developing a program," Goebel said.
In that vein, Tonganoxie's coach said it also helps to have former wrestlers come back and help, which is what 2009 graduates Matt Brock and Jon Harris and 2008 grad Wyatt Coffin did at the camp. Goebel said it was important to have past THS athletes helping out future ones.
Coffin, who recently earned a one-year degree and wrestled at Ellsworth Community College in Iowa Falls, Iowa, said he is interested in helping with the Tonganoxie Kids Wrestling Club this coming year because when he was in first grade and just getting introduced to the sport, he received a lot of similar help from people like Scott Underwood and the Starcher family.
"I love wrestling too much just to stop," Coffin said of his involvement in teaching young wrestlers. "I just really want to help the kids and be able to get more kids in here and build for the future."
Goebel said the goal of the youth camp was to prepare the kids for that future to which Coffin referred.
"I just want them to get something out of it," Goebel said, "learn one new thing about wrestling that they can take with them to the mat as club wrestlers or middle school wrestlers."
Although a lot of the campers already were a part of the Tonganoxie Kids Wrestling Club, Goebel said there were others who never had wrestled previously. He was excited to have them at camp, where they could meet and learn from club coach James Gallet, who assisted at the three-day camp.
"It gives them exposure to maybe want to do the kids club this fall," Goebel said.
Coffin agreed and said he enjoyed the chance to push the young wrestlers and encourage them to keep going.
"That's what Goebel always did for me," he said.