Chieftains focus on fast break at camp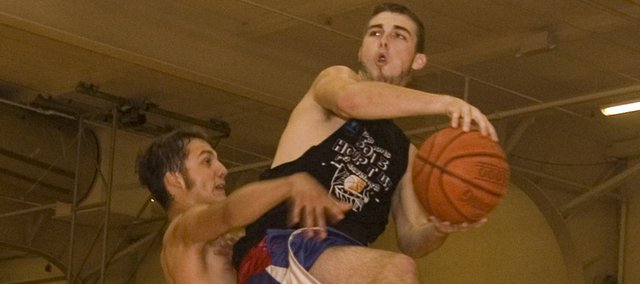 Photo Gallery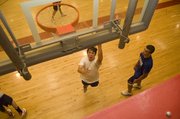 2009 Tonganoxie High boys basketball camp
Tonganoxie High boys basketball players spent five afternoons in the THS gym from June 8-12 as they worked on their skills at camp.
With workouts, a competitive summer league and more on the summer itinerary, the dog days have been and will continue to be filled with opportunities to improve for the Tonganoxie High boys basketball team.
This past week was no different as the Chieftains got an intense, yet simpler, version of the action from June 8-12 at THS boys basketball camp.
Tonganoxie coach Shawn Phillips said the campers digested a condensed version of what they will be working on all summer by focusing on a single, specific aspect of hoops.
The week's crash course: Transition offense. Phillips said he wants the Chieftains getting up and down the floor as much as possible and as fast as possible.
"We tried to refine that a little bit and work on fundamental skills," the coach said of his primary goals for the camp, which was attended by 20 THS players.
The THS staff, of course, worked on a number of little things, but Phillips said the overriding theme was fast-break offense because he didn't want to overload the players' brains by throwing heaps of information at them.
"If there's too much, then they're not going to remember it when the season starts," Phillips said. "If we can come up with just one main idea and emphasize it over and over and over again, hopefully that will be fresh when we do start the season and it will flow a lot better."
Rising senior post player Justin Jacobs said transition and secondary offense became natural with all the repetition.
"It helps me remember the plays and where to go," Jacobs said, "kind of engraves it in your head."
The five days of camp, guard Dylan Scates added, were beneficial for the Chieftains as they compete in a summer league every Monday night in June at Rockhurst University in Kansas City, Mo.
"We're getting our offense and defense set up before our league really gets kicked off," Scates said of the summer season that was less than half finished when THS closed camp on Friday.
Tonganoxie point guard Jeremy Carlisle said through camp, the Chieftains better learned how to play with each other.
"We're so far ahead — right now — of where we were last year," Carlisle said of the 2008 camp, Phillips' first at THS.
Team chemistry has benefited not only from camp but also as players compete in their summer league and attend workouts twice a week. It might improve even more when THS participates in a team camp this weekend at Creighton University in Omaha, Neb.
Phillips said all of those factors should focus things for Tonganoxie and put the team in the right direction for the 2009-10 season.
"It helps kids figure out what their role is," the coach said