Facing the future
THS

girls basketball seeing youth movement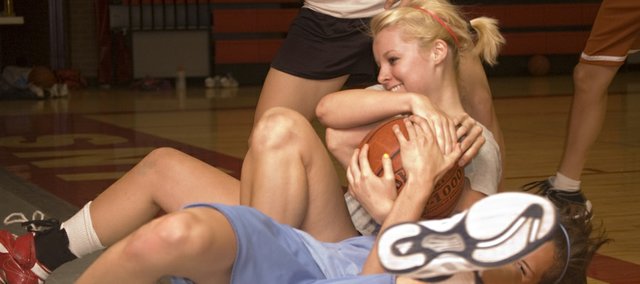 Photo Gallery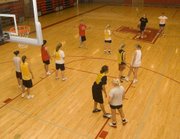 2009 Tonganoxie High girls basketball camp
For three hours each morning from June 8-11, 17 players participated at Tonganoxie High girls basketball camp.
X's, O's and fundamentals weren't the only concern this past week at Tonganoxie High girls basketball camp.
Of the 17 campers, just four — Lauren Hall, Andie Jeannin, Danielle Miller and Haley Smith — have played significant varsity minutes for the Chieftains.
Coach Randy Kraft said he hasn't had any trouble remembering names but determining each player's role for THS hasn't been so easy.
"It's a process that we're going to have to work through," Kraft said. "We have a lot of new faces, and there's a lot of open spots, a lot of playing time open for kids."
Hall, a rising senior, said the most difficult part of that development is learning how to gel with unfamiliar teammates.
"It's a change because we don't know each other — the way we react to certain plays, certain parts of the game," Hall said.
However, she added, it's not as though the younger players are complete strangers.
"It's a whole new set of girls but we pretty much all know each other from school," Hall said. "They've really stepped up and they've been doing a great job."
Hall was particularly impressed with the play of Tavia Brown, a rising sophomore transfer from Texas who stepped into a prominent role at camp with her energy, defense and rebounding.
Kraft enjoys this part of the offseason, when players are learning what they are capable of and what is expected from them.
"That's a fun time, on the other hand it's a challenging time," Kraft said. "Luckily, we have the whole summer to try and figure out where we're at, what we can do as a team."
Kraft said the four-day camp from June 8-11 was productive, noting the final session went especially well. But he added that the team would take time to improve. Entering his eighth season as THS coach, Kraft said the Tonganoxie roster has different personnel than it had in the past. The coach reacted to that by installing new offensive sets to give the team a better chance to win.
"We've had playmakers before that when we needed a shot, we needed a basket, we could go to them and they could make a play," Kraft said, adding THS doesn't have that right now.
Despite the youthful roster, he wasn't ruling out the chance for someone to eventually fill those shoes.
"I think we'll have some playmakers but now it's got to be more team-oriented," Kraft said.
Since the Chieftains don't have an abundance of size, the players spent a lot of camp time learning new wrinkles to half-court sets. Hall said the offense requires them to get open with cuts and the players learned to move at a faster pace.
"This year we're really speeding it up, getting a lot of different cuts off of things," Hall said. "We have people that are athletic enough to do that."