THS

softball coach's contract not renewed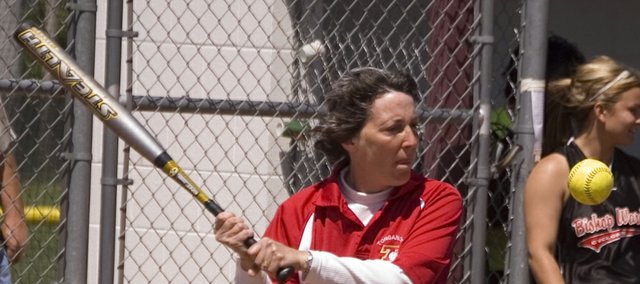 Diane Titterington's three-year stint as head softball coach at Tonganoxie High apparently has come to an end.
When the Tonganoxie School Board approved 2009-10 supplemental contracts for spring sports at its June 8 meeting, Titterington's contract was not renewed.
However, Titterington said she has been given an opportunity from assistant superintendent Kyle Hayden to submit a written response to the non-renewal at the board's next meeting on June 29. She hopes that move could lead the board to reconsider the decision.
Involved with the THS softball program for two years as an assistant before taking over as head coach before the 2007 season, Titterington learned her contract wasn't being renewed on the afternoon of June 8, prior to the school board meeting. She described her reaction to the news as "surprised" and "disappointed."
"I really don't understand it," Titterington said. "The program is going in the right direction in every area."
Tonganoxie athletics director Brandon Parker declined to comment on why the coach's contract wasn't renewed.
The position was not filled at the meeting, nor were the three assistant coach positions, which are pending upon the hiring of a head coach.
Titterington, who has been working with THS softball players two days a week this summer with batting cage workouts, hopes she can keep doing so until the coaching situation is resolved.
Even if her last ditch effort to get a new contract as Tonganoxie softball coach is denied, Titterington said she wants to do all she can to help the Chieftains, even if that means aiding with the transition to a new coach. Ultimately, she said she just wants the program to be in good hands.
Under Titterington, the Chieftains were 25-31 the past three seasons. THS was 8-7 her first year, 10-12 in 2008 and 7-12 this past season.
Titterington remains employed by USD 464 as a health teacher for first through fourth grades as well as a music and physical education instructor for kindergartners at Tonganoxie Elementary School.