5 Questions: New Administrator
Phillips to join staff as program coordinator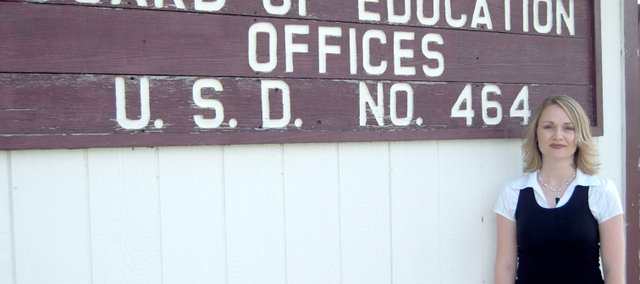 Q: What will your duties as state and federal coordinator for the district entail when you begin your new position next month?
A: As state and federal programs coordinator, I will be responsible for the development, implementation and evaluation of all state and federal programs within the district, as well as other areas, including staff development, technology, special services, grant writing, curriculum, assessment, mentorship. Because this is a new position, it will continue to grow and develop as needs arise throughout the district.
Q: What are you most looking forward to when you assume your role with the district next month?
A: While I have been working as a district level administrator for the past eight years, most of my work has been focused on grant-funded areas. I look forward to being fully immersed in the day-to-day, basic components of the school district. I am most excited about the fact that everything I do as state and federal programs coordinator will directly benefit every student in the Tonganoxie School District, including my own children.
Q: How will you apply your experience as grants coordinator at De Soto and grant director/administrator at Royal Valley to your new position?
A: Throughout the past eight years, I have worked diligently to seek out those extra funding opportunities through grants that directly benefit students and instruction. I worked very closely with other building and district administrators to fill those financial gaps and provide program and staff management. In addition, I was constantly analyzing district data to fill other gaps and provide continuous improvement to programs based on data analysis.
Q: With the economy the way it is, what challenges do you face in seeking grant money?
A: Economic times are tough across the country, directly affecting school funding. Often, outside funding opportunities (grants) provide needed support in tough times. The economy does affect the grant outlook; however, for those grants that are going away or drying up, other new opportunities are opening up, for example through the American Recovery and Reinvestment Act (stimulus dollars). When applying for grant money, districts must be cautious that they are not required to provide matching money (or other requirements) that they are not able to support.
Q: Are you looking forward to working in the same district where your husband teaches and your children are enrolled?
A: I feel that this is one of the best aspects of the job. Not only do I get to do a job that directly benefits the community in which I live, but I will also be doing a job that directly benefits my children's education and my husband's job. How can you beat that?