Retirees raise flag just in time for holiday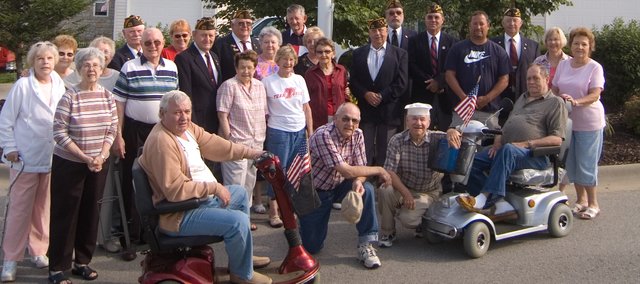 For the first time, an American flag flew high Friday from a pole in the Fall Creek Villas retirement community.
And just in time for Flag Day, which was Sunday.
Residents on Friday congregated around the flagpole in the heart of the retirement community, which is just southwest of U.S. Highway 24-40 and South Park Drive.
It's something residents have wanted to do for some time — fly an American flag from the flagpole that is situated in the middle of Fall Creek Drive.
"We have been talking about it for three years," said resident Cookie Hurst.
Hurst recently was talking with VFW member Larry Meadows, who is a former post commander with Tonganoxie's VFW Post 9271, about getting a flag for the pole.
"He made it happen," Hurst said.
Meadows also took care of getting a chain for the pole, as well as a topper.
On Friday, residents mingled with VFW members around the pole, which is in the middle of a flower garden, complete with various flowers, shrubs and other vegetation.
The topper for the flagpole? A softball, which was put there for the property's developer, Mark Himpel. Himpel's two daughters, Lindsey and Lauren Himpel, play softball. Lindsey was a freshman at Washburn University in Topeka this past school year and played softball for the Lady Blues. Lauren graduated from Tonganoxie High School in the spring and will play alongside her sister again next school year at WU.
Mark Himpel said it was great to see the residents finally have their flag.
"They're happy," he said. "They're a lot of great people."